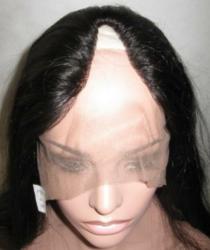 One minute transformation.
Houston, TX (PRWEB) September 30, 2012
Tiffani Chanel Luxury Hair introduces U-Part Wigs and Silk Based Closures!
U-Part Wigs are the hottest new innovation in the lace wig industry and Tiffani Chanel Luxury Hair has introduced a new line into its product offerings.
Unlike traditional lace wigs, U-Part wigs allow the user to incorporate their own hair into the unit through a small u-shaped opening at the very top of of the wig. This opening allows the user to wear their own part exposing the scalp for a more natural looking hair style. This invention completely eliminates the possibility of having a "wiggy" hairline. In addition, although U-Part wigs can be sewn into the hair or attached with adhesive, it is not required.
Like all of the hair sold at Tiffani Chanel Luxury Hair, U Part wigs are constructed with the finest quality Virgin Hair as well as affordable 100% Human Hair.
Used for years in Hollywood and high society, silk based closures are the newest hair extensions to hit the mainstream hair industry. Silk closures create a realistic, seamless transition between hair wefts and the crown of the head, and eliminates the need to blend the natural hair with the extensions.
As with all of its products, the boutique offers customization of silk closures and U-Part wigs.