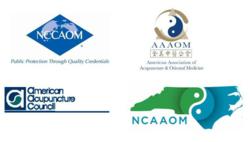 (PRWEB) September 02, 2012
WHAT: As part of the Democratic National Convention in Charlotte, North Carolina, national and state leaders in the acupuncture and Oriental medicine (AOM) profession will join forces to host an exhibit booth at the American Presidential Experience marketplace to promote the availability of acupuncture services for all Americans. Nationally-certified and state-licensed acupuncturists from the North Carolina Association for Acupuncture and Oriental Medicine (NCAAOM) and the American Association for Acupuncture and Oriental Medicine (AAAOM) will be offering AOM information and demonstrations to illustrate the efficacy and necessity of such treatment to alleviate a variety of ailments. The media is encouraged to interview acupuncturists and representatives from AOM organizations throughout the week on a variety of topics, to highlight the many ways acupuncture services benefit consumers.
VISUALS: Reporters will be provided with a first-hand opportunity to access the following:

Interviews with acupuncturists on the benefits of AOM treatments, a practice that has helped millions of consumers throughout the country
Creation of amazing visuals as acupuncturists give live interviews while treating individuals with acupuncture
Stunning still-photo opportunities
Observation of live AOM demonstrations
WHY: The American Presidential Experience is the perfect venue to educate the American public on the benefits of AOM services, while informing them how to find certified and state licensed practitioners who provide better care, better treatment, and better outcomes. As acupuncture services continue to grow in popularity and use, more and more Americans are seeking these services to treat everything from pain to infertility.
In the U.S., the use of AOM medicine is gaining widespread acceptance, with more than 29,000 certified or state licensed acupuncturists who generate annual revenues of more than $17 billion.
According to a 2007 survey sponsored by the National Institutes of Health's National Center for Complementary and Alternative Medicine, 38% of U.S. adults use some form of complementary and alternative therapy, and 27% have tried acupuncture.
With an increasing number of health insurance plans now reimbursing patients who turn to acupuncture services, usage in the U.S. is at an all-time high. According to the most recent Kaiser Family Foundation study, employees covered by acupuncture health benefits increased from 33% in 2002 to 47% in 2004.
WHO: Acupuncture demonstrations will be performed by skilled acupuncturists who are licensed in the state of North Carolina and are also certified by the National Certification Commission for Acupuncture and Oriental Medicine (NCCAOM®). In addition, interviews with representatives from the following organizations will be available on-site or with advanced scheduling:

American Association of Acupuncture Oriental Medicine (AAAOM)
American Acupuncture Council (AAC)
National Certification Commission for Acupuncture and Oriental Medicine (NCCAOM®)
North Carolina Association of Acupuncture and Oriental Medicine (NCAAOM)
WHEN: Saturday, September 1 to Friday, September 7 ● 10:00 a.m. to 8:00 p.m.
WHERE: Presidential Experience Marketplace Exhibit Area: Corner of S. Mint and W. 3rd Street, Charlotte, NC
For more information about the American Presidential Experience in Charlotte, please visit http://presidentialexperience.com/exhibits/our-next-exhibit-3/
AAAOM: Formed in 1981, the AAAOM is a national membership organization of AOM practitioners and supporters that serves to advance the profession. The AAAOM is dedicated to promoting ethical practice and an emerging national standard for high educational and regulatory standards for the licensure of American acupuncturists. For more information, visit http://www.aaaomonline.org/.
AAC: The AAC is the largest and oldest provider of acupuncture insurance in the country. With three decades of experience defending acupuncturists from wrongful malpractice claims, their team of dedicated specialists offers an unparalleled track record in acupuncture protection. For more information, visit http://www.acupuncturecouncil.com/index.html.
NCAAOM: The NCAAOM is a not-for-profit, professional organization of licensed acupuncturists, Oriental medicine practitioners, related students and other interested parties throughout the state of North Carolina. For more information, visit http://www.ncaaom.org/index.shtml.
NCCAOM®: Established in 1982, the NCCAOM® is a non-profit organization based in Jacksonville, Florida. Its mission is to establish, assess, and promote recognized standards of competence and safety in AOM for the protection and benefit of the public. The NCCAOM is the only national AOM certification organization whose certification programs are accredited by the National Commission for Certifying Agencies of the Institute for Credentialing Excellence. For more information, visit http://www.nccaom.org.
MEDIA: To confirm media attendance, schedule interviews or for more information contact Mina Larson at (703) 314-2908 or mlarson(at)thenccaom(dot)org.