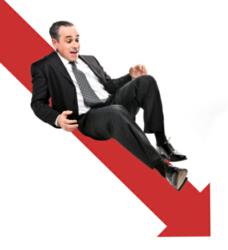 "In the 70s, the middle class earned 62% of the nation's income and the wealthier Americans received 29%," reports Lombardi. "Compare that to now. In 2010, the middle class earned only 45% of the nation's income."
New York, NY (PRWEB) September 04, 2012
According to Michael Lombardi, lead contributor to Profit Confidential, the American middle-class segment is shrinking, as it currently makes up about 51% of the U.S population, compared to 61% in 1971. As Lombardi notes, economic growth occurs when there is a rising demand for goods and services, and historically, this demand has largely come from the middle class. With a shrinking middle class, Lombardi sees weak economic growth and tough times ahead for the American economy.
"In the 70s, the middle class earned 62% of the nation's income and the wealthier Americans received 29%," reports Lombardi. "Compare that to now. In 2010, the middle class earned only 45% of the nation's income."
In the article "U.S. Middle Class on Verge of Collapse?," Lombardi goes on to add that 85% of middle-class Americans say it is now more difficult to maintain their standard of living than it was just a decade ago.
"The recession not only stalled economic growth, but it also affected the net worth of middle class families," argues Lombardi. "The U.S. middle class saw a decline of 28% in their net worth over the last decade—from $129,000 in 2001 to $93,000 in 2011."
Lombardi says that the net worth of lower income families fell a steeper 45%.
"There is no doubt the middle class was the reason for economic growth in the past. Unfortunately, they haven't been able to take the blow or the recession," claims Lombardi.
Lombardi thinks that the standard of living in America has gone down for the people living in a typical middle-class family since the recession.
Lombardi concludes, warning that "There is a clear indication of weaker demand and no economic growth. The declining middle class and a significant portion of the population falling into poverty are not good signs in any economy."
Sources:
Associated Press, August 22, 2012.
Pew Research Center, http://pewresearch.org/.
To see the full article and to learn more about Profit Confidential, visit http://www.profitconfidential.com.
Profit Confidential, which has been published for over a decade now, has been widely recognized as predicting five major economic events over the past 10 years. In 2002, Profit Confidential started advising its readers to buy gold-related investments when gold traded under $300 an ounce. In 2006, it "begged" its readers to get out of the housing market... before it plunged.
Profit Confidential was among the first (back in late 2006) to predict that the U.S. economy would be in a recession by late 2007. The daily e-letter correctly predicted the crash in the stock market of 2008 and early 2009. And Profit Confidential turned bullish on stocks in March of 2009 and rode the bear market rally from a Dow Jones Industrial Average of 6,440 on March 9, 2009, to 12,876 on May 2, 2011, a gain of 99%.
Profit Confidential is Lombardi Publishing Corporation's free daily investment e-letter. Written by financial gurus with over 100 years of combined investing experience, Profit Confidential analyzes and comments on the actions of the stock market, precious metals, interest rates, real estate, and the economy. Lombardi Publishing Corporation, founded in 1986, now with over one million customers in 141 countries, is one of the largest consumer information publishers in the world. For more on Lombardi, and to get the popular Profit Confidential e-letter sent to you daily, visit http://www.profitconfidential.com.
Michael Lombardi, MBA, the lead Profit Confidential editorial contributor, has just released his most recent update of Critical Warning Number Six, a breakthrough video with Lombardi's current predictions for the U.S. economy, stock market, U.S. dollar, euro, interest rates and inflation. To see the video, visit http://www.profitconfidential.com/critical-warning-number-six.