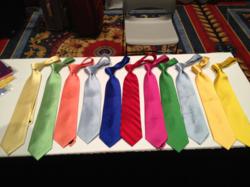 Everyone always asks me where I get my ties
Los Angeles, CA (PRWEB) September 06, 2012
JT Foxx Ties, the latest innovation from serial entrepreneur and top wealth coach, are taking the business world by storm.
Dressing the part has never been more important for entrepreneurs. With the JT Foxx Ties, the savvy entrepreneur can put his best foot forward, with striking colors and bespoke tailoring.
The idea to launch JT Foxx Ties came to JT shortly before last year's Mega Partnering Conference, Mega Partnering V. As JT Foxx explains, "Everyone always asks me where I get my ties so I decided that I was going to get them from the company who made them. I launched the Collection at Mega Partnering V after only coming up with the idea 1.5 weeks earlier. We sold so many just from the first launch!"
The JT Foxx Tie collection pays homage to some of JT's most cherished mentors including Nido Qubein and Apple co-founder (and frequent Mega Partnering presenter and attendee) Steve Wozniak. Their respective colors, Nido Red and Apple Green, round out the comprehensive color palate, adding powerful flair to any executive's appearance.
About JT Foxx
JT Foxx started investing with nothing more than a rusted out Ford pick-up truck, $974 dollars and 1 cheap suit. Now just 6 years later, he has acquired and sold over 500 properties, closed over $40 million in real estate deals.
JT is the syndicated weekend radio personality of the "J.T. Foxx Show" in the U.S. and Canada. His radio program features celebrity guests as Senator John McCain, Rudy Giuliani, Gene Simmons, Rev. Jesse Jackson, Trump, George Ross, Kevin O'Leary, Newt Gingrich and Dennis Hastert, Governor Pataki and celebrated authors like Robert Kiyosaki, Jack Canfield, and David Bach.
JT Foxx is a serial entrepreneur and started several multi-million dollar companies all over the world, who has become one the most sought after motivational speakers and recognized as one of the top wealth coaches in the world all by mastering the art of partnering, branding, networking, and marketing.