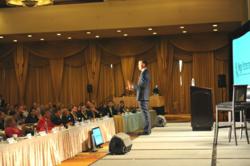 Los Angeles, CA (PRWEB) September 05, 2012
JT Foxx, business guru, serial entrepreneur and philanthropist is using his brand clout to launch a powerful new initiative to educate small business owners. This new, vital platform will become part of all of the upcoming Mega Partnering VI conference, to be held in Los Angeles this fall.
Mega Parterning VI, the World's # 1 Wealth Networking and Business Conference, is the ultimate destination for celebrities, entrepreneurs, small business owners and business-savvy professionals. This epic conference, founded by serial entrepreneur, business mogul and syndicated radio talk show host J.T. Foxx, taking place from November 29-December 2, 2012 (with a special, just-announced bonus branding seminar day on December 3, 2012), features multimillionaire presenters…and attendees.
Already plagued by frauds and extortionists out to make a quick buck off of their hard-earned reputations, there is a new way that those who would harm entrepreneurs that's possibly even more dangerous—the use of contingency lawyers to support false claims of harassment and other nefarious deeds. JT Foxx vows to teach entrepreneurs to protect themselves from former employees using lawyers on contingencies to try and extort employers into quick settlements in order to avoid embarrassment.
About Mega Partnering
Mega Partnering is an independent international organization JT Foxx created after watching a 60 Minutes episode about Davos, applying, and getting turned down when he tried to start his own business. Not willing to take rejection, JT Foxx decided to start his own opportunities for small businesses and called it "MegaPartnering."
The conference has since grown to include small entrepreneurs from all over the world, and raises money for charitable initiatives, keeping with the philosophy, "Learn, Earn, Return."
Mega Partnering attendees have included Mayor Rudy Giuliani, Gene Simmons, Kevin Harrington, former Prime Minister Brian Mulroney, George Ross, Wayne Allyn Root, Stedman Graham and Bruce Buffer. Mega Partnering is committed to improving the state of the business world by engaging small businesses, real estate investors, internet marketers, and other leaders of society to shape partnerships and life-long relations.