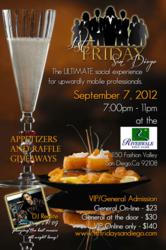 This 1st Friday will set itself apart because not only is it helping buiding a stronger sense of community among business owners in San Diego but it will also support our veterans on a national scale.
(PRWEB) September 03, 2012
1st Friday is the premier happy hour, networking party for professionals across the country and it has finally come back to San Diego and is better than ever. Expectations are high as the city's leading professionals prepare to invade Riverwalk Golf Club a.k.a "San Diego's Best Kept Secret."
With DJRedlite, the #1 DJ in San Diego spinning an amazing line-up of your favorites all night, better bartenders, staff, atmosphere, food, raffles, prizes, games and free parking, this is the place to be on the 1st Friday of every month! Regal Media Productions will be there with a mobile studio capturing the night that you will surely want to remember and share!
Upscale attire, absolutely no sneaker, hats, or t-shirts will be allowed. This is your exclusive invitation to attend. Arrive early and bring business cards.
EMichele Paul is the event coordinator and a disabled OIF veteran. She brought back 1st Friday because she wanted to see a stronger sense of community among small business owners. Deciding to make the Wounded Warrior Project the cause that her small business, EM Corporate Event Management, would assist was just a natural choice. Her passion and loyalty to her country and the brave men and women that serve in our military continues to be a driving force behind everything that she does. She has reached out to Marcus Barnes at Warriors to Work as a means to find highly qualified employees for her business. She knows the character traits that our country's wounded heroes bring and is excited to join forces with them again in the civilian workforce.
Join us September 7, 2012 from 7-11pm at Riverwalk Golf Club, 1150 Fashion Valley Rd., San Diego Ca 92108. The price is $15 for 1 and $25 for 2 online. The price at the door will be $20 per ticket.