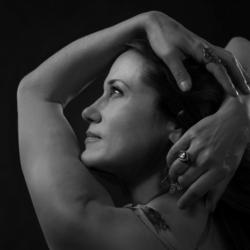 Jenson has a true and pure instrument and she uses it to convey compelling lyrics and inflections to convince the listener of every note…
Napa, California (PRWEB) September 06, 2012
Former Napa resident Mary Jenson returns to Silo's, Napa's premier listening room on Friday, September 28th to present Beyond Standard Jazz: her favorite music from the fusion pioneers of the last 40 years. A vocalist with wide musical tastes, Mary sings the music of such signature composers as Chick Corea as well as of today's rising star Gregory Porter. Mary's originals from her 2011 release BEYOND will also be highlighted.
Mary is joined by a quartet of First Call Musicians:
Steve Carter ~ piano/keys
Jeff Chambers ~ acoustic and electric basses
Rich Armstrong ~ trumpet, percussion & vocals
Bryan Bowman ~ drums
Bay Area vocalist Mary Jenson debuted her concept album BEYOND with a CD Release concert at Yoshi's Oakland February 1st, 2011. BEYOND received enthusiastic reviews and hit the CMJ Jazz charts at #28, returning again at #34.
Review highlights:
"And floating on top of or riding the crest of the music is Ms Jenson and her mellifluous voice. It really is a wonderful thing - light and floaty one moment and then bluesy the next. "
The Borderland, March 2011
"She is accessible and yet mysterious, direct and yet elusive. Her website characterizes her sound as "jazz/world/fusion," and it's full of unexpected depths, whether she's singing originals or a standard or pop song…
I find myself rather addicted to this album late nights and daytime."
Talkin' Broadway, March 2011
"Jenson has a true and pure instrument and she uses it to convey compelling lyrics and inflections to convince the listener of every note…
…Beyond is an album filled with artistry and strong performances. An inspiring offering by a talented and limitless vocalist, Jenson has put together not only a journey beyond the ordinary, but a measure of what all vocalists should aspire to, worth the listen, and certainly worth the buy."
ALL About Vocals Review, November, 2011
"Beyond is an album based in world idioms and cross bread with contemporary jazz ideas. Jenson has put together not only a pleasing listen, but truly a wonderful journey of songs that takes the listener to places in their mind and memory that evoke pleasing experiences. Truly not like any other vocal jazz album I have heard in 2011 – this is truly an embodiment of work that need to be added to any collection that features jazz and world recordings."
EJAZZ News, November 2011
Mary's freshman release CLOSE YOUR EYES, debuted in March 2009 and featured standards and pop songs reinvented in the jazz medium.
Mary's Music can be found on CD Baby, Itunes, Amazon and other online sites.