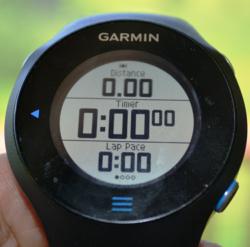 GPS watches are starting to get very specialized by function so, consumers need more real help from experts, buying from no-help franchises like Amazon will mean second tier service on after care and advice
Bozeman, MT (PRWEB) September 03, 2012
Garmin Forerunner 610 has been named the top GPS watch for 2012 for trail and mountain running by the Heart Rate Watch Company.
"We really like GPS for trails and mountains because stride length can vary a lot rendering foot pods inaccurate," says Rusty Squire, President of the Heart Rate Watch Company. He adds, "The touchscreen interface, auto scroll, screen customization, accuracy and styling were all considered and Foreunner 610 has no competition left on that basis for trail and mountain running."
"GPS watches are starting to get very specialized by function so the whole market is getting much more segmented, which means consumers need more real help from experts, and buying from no-help franchises like Amazon will mean second tier service on after care and advice," says Squire.
John Yarington, the chief tester for the Heart Rate Watch Company, spends hundreds, if not thousands, of hours annually just testing these watches. "John is a real pro and ultra-endurance athlete, so unlike the majority of review bloggers he is out there doing it 24/7/365 rather than being behind a computer, which is the way it should be," says Squire.
One of the nicer aspects of the Garmin 610 is that it makes a really great everyday watch and is much smaller than most of the GPS watches made today. "I wore it as an everyday watch for 4 months last year," said Squire. He chuckles, "When my wife found out what it could do I lost my watch and it was often on her mountain bike."
Triathlon competitors might want to consider the Garmin Forerunner 910XT while pure cyclists will enjoy the Garmin Edge 500. "I just like the adaptability of watches for multiple sports", says John Yarington.
The ability to see metrics, like heart rate, at precise moments, or locations, is part of what makes the Garmin system so special. Drag an icon to the top of a hill in the Garmin Connect software, freeze it, and the precise heart rate, speed, distance, cadence and other metrics attributable to that precise moment in time are shown.
"It's still my favorite GPS watch", says Squire referring to the 610. He adds, "It is not well suited to ultra-marathon, triathlon or swimming but for those who like to hike, run, bike, ski, Nordic ski, inline skate or any other sport, it is an incredible device and it really shines in the mountains and on trails."