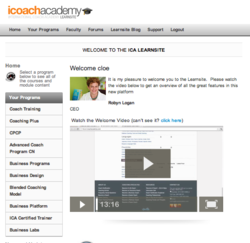 "We have looked at dozens of e-Learning platforms over the past 12 years and learned that our online classroom and forum must be about simplicity and versatility.
(PRWEB) September 02, 2012
International Coach Academy (ICA) is utilizing the very latest in eLearning platforms to meet the coach certification training needs of their global student body. This includes new software that truly engages the ICA community including students and graduates from China and the Middle East where such media sites as Facebook and You Tube are not available.
"We have looked at dozens of e-Learning platforms over the past 12 years," says CEO Robyn Logan. "And what we've learned from our students, grads and the experts themselves is our online classroom and it's accompanying forum must be about simplicity and versatility not about how many features you have or how clever the back end is."
At ICA all coaches, no matter their area of specialization, learn core coaching skills in a cross disciplinary, flexible, and self- paced environment allowing for "just in time" learning when they want, how they want, and by who. All programs are delivered via a combination of online learning (member's only website with lectures, forum etc.) and teleclasses (led by certified coach trainers).
To experience the ICA eLearning environment http://www.icoachacademy.com/index/preview-coach-training/
# # #
About ICA. International Coach Academy is one of the world's leading providers of coach training programs and certification. We are a well-established school for those who want to be a coach. Globally more than 5,000 students have attended the International Coach Academy from more than 90 countries.
Today, with over 60 full and part time staff and trainers located throughout the world, ICA operates around the clock, over multiple time zones. Students access courses from their homes and yet engage with people from every corner of the world.
Here adults become professional coaches while sharing and connecting with a global coaching community. We are extraordinary people who are bringing the power of coaching – the realization of the human potent