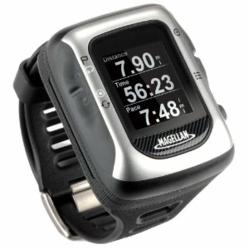 This watch is totally trick the way it quickly switches from a wrist band to a bike mount and ultra-athlete tester John Yarington pounded this thing down rough mountain bike trails here in Montana and said the mount is bomber
Bozeman, MT (PRWEB) September 04, 2012
Magellan Switch Up has been voted the best new cycling watch of 2012 according to the Heart Rate Watch Company.
"This watch is totally trick the way it quickly switches from a wrist band to a bike mount and ultra-athlete tester John Yarington pounded this thing down rough mountain bike trails here in Montana and said the mount is bomber", says Rusty Squire, President of the Heart Rate Watch Company.
What is so unique about the Magellan Switch Up is that it mounts absolutely secure into a stem bike mount and furthermore, with the supplemental 16 hour lithium-ion battery it can go for a full 24 hours at one second recording intervals. "That even beats the Garmin Forerunner 910XT, Suunto Ambit and Garmin fenix, plus if you need to you can carry additional 16 hour batteries that cost $39 and are totally user changeable - that's a first", says Squire.
STRENGTHS:
The big strengths of the Magellan Switch Up are a customizable user screen, incredible bright sunlight visibility, the first ever lithium-ion user changeable batteries, its waterproof (not water resistant) shell, its bomb-proof construction and the fastest watch to bike mount system in the industry. "This watch got a lot of stuff right immediately right out of the gate", says Squire.
WEAKNESSES:
The operating software still needs improvement to catch up to Suunto, Garmin and Training Peaks according to John Yarington. "But no worries because you can download the data to many third-party software programs", says Squire. He adds, "I am sure they will do updates and improve it going forward".
The other concern from Yarington was how much precision and strength the watch took to dislodge from the watch strap and the bike mount. "This is a double-edged sword", says Squire. He adds, "The easier it is, then the easier it will flip out of either mounting location, but for now, the word secure is not an issue so it won't get bounced off in a crash like many units we have tested".
CYCLING ASPECTS:
Jon Yarington really like the cycling capabilities of the watch in its separate mount. "For cycling data, durability and sereneness of the mount it is pretty tough to beat", said Yarington. The Magellan Switch Up also has a screen visibility and size that is not surpassed by any other cycling watch, so these factors were the main difference makers in the Heart Rate Watch Company naming it their 2012 Cycling Watch of the year.
"This watch costs over $100 less than the Garmin 910XT and still gets the same ANT+ power meter statistics", said Squire. He adds, "Plus it is an impressive running, Nordic skiing, hiking or back country watch and can surpass everyone with the world's first ever user changeable lithium-ion batteries".