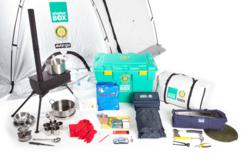 Sarasota, Fla. (PRWEB) September 02, 2012
International disaster relief organization, ShelterBox is sending a response team to the Gulf Coast to assess the need for emergency shelter and other equipment following the aftermath of Tropical Storm Isaac, which has caused major flooding in Louisiana and Mississippi.
ShelterBox, which delivers boxes of aid to survivors of disasters such as earthquake, volcano, flood, hurricane, cyclone, tsunami or conflict, is deploying a US-based ShelterBox Response Team (SRT), including Alan Monroe (Sarasota, Fla.) and John and Trannie Lacquey (Branford, Fla.) who will be assisted by Ken Thompson of Slidell, La.
The SRT is due to arrive today and will begin an assessment to determine the most impacted areas. If there is a need for the ShelterBox solution, the team will provide aid to the most vulnerable families.
The contents of a ShelterBox depends on the location and nature of the disaster but often contains a disaster relief tent, stove, blankets, water filtration system, and other tools necessary to help families live independently and with dignity in the months following disaster.
ShelterBox is also currently deployed in Haiti due to Isaac, as well as the Philippines and Niger.
Since 2000, ShelterBox has provided shelter, warmth and dignity following more than 180 disasters in over 80 countries. ShelterBox's American affiliate, ShelterBox USA is headquartered in Sarasota, Fla. and is one of 21 affiliates worldwide. Individual tax-deductible donations can be made to ShelterBox USA at http://www.shelterboxusa.org, (941) 907-6036 or via text message by sending SHELTER to 20222 for a one-time $10 donation.