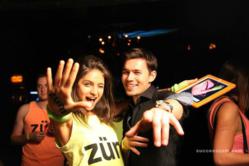 The night was filled with cheeky, züm-tastic, fun
Los Angeles, CA (PRWEB) September 03, 2012
züm, the first iPhone app that allows users to send "no-regrets" video messages to their friends, celebrated their launch on August 30th at TigerHeat, Hollywood's most infamous 18+ club, by züming the night away with some of Hollywood's hottest trendsetters.
Famed Brit-pop girl group "The Saturdays" (filming for their upcoming reality show debut on E!) and TV personalities like Bobby Trendy were also among the crowd of revelers and were some of the first influencers to get to experience züm, as the app only just launched through the iTunes store on August 10th, 2012.
The night was filled with cheeky, züm-tastic, fun as guests danced, goofed around in the züm video-booth, and were treated to cool züm gear - including neon tanks and temporary tattoos. Guests enjoyed sending züms to be projected on a big flat-screen for all to see! Uber, L.A.'s first on-demand private driver for iPhone and Android, also encouraged responsible revelry by treating guests to complimentary rides up to $30 that started or ended at TigerHeat.
The event also marked the kick-off of züm's college tour, launching September 5, 2012 at USC's 901 Bar & Grille. This will be the first stop for the team, who will be traveling across the country to visit a number of the nation's top universities to party, züm, and leave with no regrets.
For more information on züm and to view more photos from the event, visit http://www.successzum.com/. The app is now available for download from the iTunes app store, or by clicking this link: http://bit.ly/gozum
About the company behind züm, Divide Nine:
Divide Nine is uniquely positioned at the intersection of entertainment, feature animation and social technology. With a team of seasoned, heavy hitting industry execs combined with emerging, fresh talent, Divide Nine is a rapidly growing studio at the heart of LA Technology and Entertainment. Krishna and Lisa founded Divide Nine in 2008 after successful tenures as top executives at companies such as Philips Electronics, MySpace, and Ticketmaster. For more information visit http://www.dividenine.com.
Media Contact: Jenn Deese, Melrose PR, jenn(at)melrosepr(dot)com, 310-450-7960, http://www.melrosepr.com