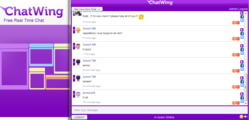 Miami, FL (PRWEB) September 02, 2012
Forums bank information posted on a specific topic for other people to read at any time, this creates a discussion environment. Everything that gets posted gets read again and again. Forums allow you to create robust online communities even with low traffic volumes since people often return to the site on a regular basis to catch up on what happened since their last visit.
ZetaBoards offers free forum hosting that serves as the perfect site for growing an online community. Zetaboards forum software has been used by millions of people looking for a place to gather, discuss and share. Zetaboards has been popularly used because of its powerful features where users can modify their forums to fit their unique community.
Chatwing introduces a chat software that can be integrated on every Zetaboards Forum site. This chat widget is compatible with Zetaboard Forum site and highly customizable to fit the site's layout and design. Chatwing's free shout box offers a great avenue for forum visitors to interact with each other real time. Some forum sites offers assistance to those who shares the same hobbies and interest. Having a free shout box on the forum site, visitors no longer need to wait for a reply on their topic feed. They can right away communicate with the forum admin real time with the use of Chatwing's free live chat.
Being able to communicate directly with the forum visitors on a real time basis allows Forum Admin to gain better credibility with their online visitors as Admin can reply to posts that are looking for help through the embedded chat box. This allows them to build a better relationship with their visitors. In the long run, such Forum site's traffic will increase through repeat visitors.
Most Zetaboards enthusiasts had experienced greater online visibility by installing the chatbox provided by Chatwing. Forum site visitors simply need to provide facebook log in credentials or twitter account to join the free shout box installed on the site. However, if visitors are hesitant to provide such information, they can log in as guests.
With the fast interactions of people over the internet nowadays, Forum sites never failed to keep pace with such developments. It is a great advantage for Forum Admin to have a chat widget installed on their forum site for them to be able to interact with their visitors real time and make them visit their site more frequently.
About Chatwing.com
Chatwing.com has developed live chat software for websites. forums and blogs. It caters to different online communities ranging from travel blogs, tech savvies, online gamers to fashion bloggers. Everyone can create a customizable live chat widget in less than a minute. The ability to chat via social media accounts such as Facebook and Twitter enable Chatwing to offer a special and one of a kind real-time experience to all sites. Chatwing is 100% free and very easy to use.