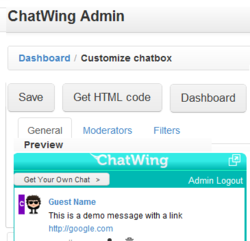 Cambridge, MA (PRWEB) September 03, 2012
Wikidot has been a favorite to most bloggers and online marketers because users can create a website without knowing HTML, PHP, Java and etc. With Wikidot, users can create their personal site, their company's website as well as big portals and huge community forums with thousands of users. They can create their own web projects in minutes. They use a mix of forums, wiki pages, templates, modules, custom themes, add-in packages, and reusable site templates to create almost any collaborative web project imaginable.
By integrating Chatwing's chat box in the Wikidot website, users can get in touch with their website visitors real time. Chatwing's chat widget can be embedded on the Wikidot website or it can also be set up as a pop-out window. Chatwing's chatbox can be installed in less than a minute. Users can customize the size, color and title of the chat widget for it to be in sync with the site's lay out.
This free shout box offers continuous stream of communication between the web Admin and its visitors. Through this, an enormous amount of ideas can flow between users. Such exchange of ideas is beneficial to admin and users alike. Admin can personally discuss to a visitor more details on a specific blog entry. Like if an Admin is maintaining a travel blog, Admin can provide answers to queries from online visitors real time. Instead of the traditional way of communication between bloggers through comments or private messages which may take a day or two before a reply can be given, with this free live chat, the waiting is over.
Wikidot business websites can greatly make use of this free chat provided by Chatwing. Sellers can maximize their reach to their prospective buyers. They can initiate promotional talks to their online visitors and create a personalized advertisement through chat. This can create a higher amount of income, as this online marketing strategy is of no extra charge. Chatwing chatbox is absolutely free.
Chatwing's free live chat within a website can encourage interaction for website visitors which will, in the long run, create a community with in a website. This chat box can be a great tool in increasing the website's online visibility which has been the common aim of most websites nowadays.
About Chatwing.com
Chatwing.com has developed live chat software for websites. forums and blogs. It caters to different online communities ranging from travel blogs, tech savvies, online gamers to fashion bloggers. Everyone can create a customizable live chat widget in less than a minute. The ability to chat via social media accounts such as Facebook and Twitter enable Chatwing to offer a special and one of a kind real-time experience to all sites. Chatwing is 100% free and very easy to use.