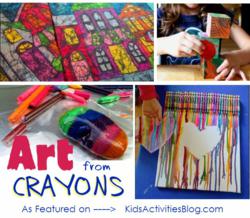 Today childhood art projects are using crayons, but not just for coloring inside the lines.
Dallas, TX (PRWEB) September 02, 2012
Wax crayons have been a staple of childhood art since their invention in the early 1900's. Today childhood art projects are coloring outside the lines with various uses and techniques for the traditional crayon. Wax crayon art projects are melting crayons into wall art and "stained glass windows".
Crayons's fate is no longer a long, pencil-like shape. Kids are using heat sources like blow dryers and the Texas sun to melt the colored wax to be poured into forms or used as paint. The shapes that melted wax can make is only limited by creativity and the colors that are created are endless.
Anyone who has visited the popular social media site, Pinterest, lately has seen that Crayon Drip Art has gone viral. A line of intact crayons are heated allowing the colorful drips to form a waterfall of melted wax. Taking this technique to another level with crayon relief makes two works of art in the same project.
Painting with melted crayons recycles broken crayon pieces into paint with the help of a candle warmer. The wax art can be layered with additional acrylic paint once it dries.
Coloring books don't have to be used for just coloring. Coloring book pages can be used for various coloring activities like painting, seed collages, sticker art, and dioramas.
Everyone loves crayons and these creative art projects for kids are perfect for either a family or classroom group activity. The Kids Activities Bloggers at Kids Activities Blog find the best and latest ideas for turning traditional kids activities into updated fun. Getting kids involved in art can increase motor skills, enhance creative thought and teach listening skills in a fun way. The great thing about art projects is that the result can also end up on your wall!