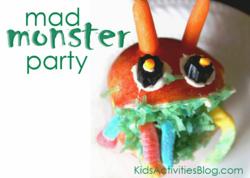 A Mad Monster Party is the perfect balance of scary silliness!
Dallas, TX (PRWEB) September 03, 2012
With many kids films, video games, apps and literature promoting non-threatening monster characters, Kids Activities Blog finds some of their favorites for a monster party theme to throw a frighteningly great Mad Mad Monster Party.
Over 20 mad Mad Monster Party Ideas were collected to assure that a child's birthday party is full of easy and inexpensive fun. A monster bash appeals to kids with all sorts of interests and seems to be ageless in its possibilities. In the past few years there has been an increase in non-threatening monster characters in literature, movies, video games and apps aimed at children. Kids are embracing these monster characters.
Monster face treats made with apples, cream cheese and peanut butter create the perfect balance of scary silliness. During the birthday party, a candy buffet for the kids can be created to decorate cupcakes into their personal monster friend. The candy buffet wasn't just candy: Apples, carrots, cream cheese, peanut butter, dyed green coconut shavings, sprinkles, nerds, jelly beans, nerds, yogurt covered raisins, cereal, gummy worms, licorice bits, and more was used so each monster cupcake was unique.
The party participants can be given some clay or play dough along with a handful of googly eyes, straws or popscicle sticks and see what crazy creatures they can create. Or if a more formal craft is desired for entertainment, then tons of "frightening" monster crafts for kids are listed including an easy monster craft, monsters in clay, googly eye play dough characters, blown ink shapes, flower pot creatures, paper mache monster hooks, flannel DIY monsters, monster pillows, monster finger paint works of art, and take-away monster bookmarks.
Monster kids activities include class party ideas, monster stickers, crazy characters, scary window clings, loony party craft, DIY monster face tote, learning shapes with frightening friends, toilet paper tube monster activity, paper mache monster activities, monster finger puppets and monster dress up.
The Kids Activities Bloggers aka Quirky Mommas have scared up all these fun monster party activities because they are passionate about inexpensive family fun. Each day Kids Activities Blog publish at two new activities to do with kids to inspire and encourage caregivers to play. These activities are easy, sneak in a little education and use things that are laying around the house. And as for the Mad Monster Party...monsters shouldn't just sleep under the bed!