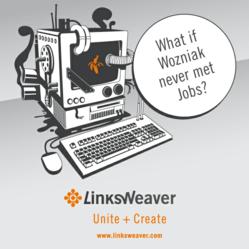 Everyone has had a great idea, but not everyone has been in a position to do something about it, until now.
Nyon, Switzerland (PRWEB) September 05, 2012
LogicWard today launched LinksWeaver, a new service which brings together creative people and entrepreneurs from any background, helping them meet and interact to bring their projects and ideas to life.
With two out of three people in Europe alone reported to have regular access to the internet, the ability to collaborate over a long distance is now easier than ever. With LinksWeaver, Graphic Designers, Computer Programmers, Musicians, Filmmakers, Writers and Business Entrepreneurs worldwide are encouraged to create partnerships and build teams, opening up opportunities that they may not previously have had access to.
"LinksWeaver is a service open to anyone at any skill level from amateur to professional" said David Haddock, co-founder of LogicWard. "We've all had great ideas in our lives or thought 'I could do better than that', but not everyone has the confidence or skills required to do something about it. With LinksWeaver, we want to encourage people to embrace their creative side by helping their ideas to become reality."
Students, the self-employed and those looking for a career change are just some of those who can benefit from using LinksWeaver. In today's climate it is important to stand out within the crowded job market as having qualifications alone is not the guarantee of success that it once was. Applicants are now judged more than ever on the experience that they have gained both in and outside of work. LinksWeaver aims to help its users to gain this experience and to get the boost they need to help them with their career aspirations.
"Whether you want to help on someone else's project or start your own, what you can achieve through LinksWeaver is down to you and your own ambition. We specialize in uniting people that share a passion for a project, because of this we believe that a team formed through LinksWeaver will achieve far more than a team made up of contractors and without the extra cost involved. It's this passion for a project that makes all the difference, after all if you are passionate about something you will give it everything you've got. The LinksWeaver site is a great example of this, from what it does to how it looks, our love for what we do is obvious. We really think LinksWeaver is going to give people the opportunity to do what they've only been able to dream about before and we can't wait to see what they can achieve.'
LinksWeaver is available now at http://www.linksweaver.com
About LogicWard
LogicWard is a software, website and mobile development company based in the UK and Switzerland. Founded in early 2012 and united in a shared passion for people, the internet and great product design, LogicWards interests lay within what can be achieved when design and engineering are freed from all boundaries.