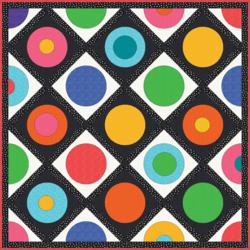 Several of the fabric cutting dies introduced in this wonderful new assortment of Studio dies have been highly requested by our actual Studio owners. – Linda Pumphrey
Omaha, NE (PRWEB) September 04, 2012
Quilters from all over the country have been enjoying 13 brand new fabric cutting dies as part of the first half of the new AccuQuilt Studio™ Fabric Cutter die release appropriately titled "Lucky 13." These 13 dies were released June 11 and offer a wide variety of sizes and geometric shapes. The complete launch includes three new rag die shapes as well as two tumbler die sizes, providing creative quilters with a host of mix-and-match options with both new and existing dies.
"Several of the fabric cutting dies introduced in this wonderful new assortment of Studio dies have been highly requested by our actual Studio owners," said Linda Pumphrey, AccuQuilt Global Sales Manager. "AccuQuilt looks forward to seeing the wonderful quilts and quilted items they will make using dies from this exciting new release."
The second part of the release happened the week of August 27 and was dubbed "Two-A-Days" as two new dies were released each day with a third bonus die released on the final day. This systematic release was a refreshing way for AccuQuilt to have a little fun with their new line of dies, building anticipation and excitement on a daily basis.
With the full Studio die release, quilters can look forward to a total selection of 24 dies with 19 geometric shapes that create a variety of block sizes, including 6, 7, 8, 9,10 and 12-inch. These shapes include squares, half squares, quarter squares, rectangles and parallelograms.
Retail pricing ranges from $40 for a Studio Quarter Square 2" Finished Triangle to $155 for a Studio Rag Quilt Square 12 ½". The AccuQuilt Studio Fabric Cutter and hundreds of Studio fabric cutting dies are available exclusively through AccuQuilt at http://www.accuquilt.com or by calling 888.258.7913. Quilters also can purchase AccuQuilt GO!® Fabric Cutters and dies at local quilt and fabric retailers or by visiting http://www.accuquilt.com
About AccuQuilt – Better Cuts Make Better Quilts®
Headquartered in Omaha, Neb., AccuQuilt offers quilters, fabric crafters and retailers a premiere line of fabric cutters, dies, quilting patterns and other quilt and fabric cutting solutions that help quilters quickly and accurately cut shapes for quilting and fabric crafts. AccuQuilt also offers quilters a wide variety of rich educational resources to enhance their quilting experiences. Cutting with AccuQuilt cutters is a natural evolution of fabric cutting methods. "First scissors…then rotary…finally…AccuQuilt®" for fast, easy, accurate fabric cutting. Visit AccuQuilt online at http://www.accuquilt.com