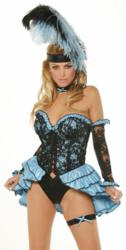 Las Vegas, NV (PRWEB) September 04, 2012
September and October are the busiest months at Feeling USA. Halloween sales has grown in recent years by at least 40%. Due to a big demand for sexy adult costumes, the new collection includes mostly sexy Halloween outfits for women. They offer costumes for for any size, ranging from XS up to 6X for fuller figured women. According to Franz Schlienger, the Vice President of Feeling USA, their main clientele shopping for Halloween are women, therefore they offer only a handful of men's costumes. The costumes are available in a variety of themes, witches, vampires, pirates, fairy tale characters, Wild West, Hippie, showgirls, uniforms: such as police officer, french maid, nurse, and sexy school girl outfits. Some of the costumes are extremely sexy and are only suitable to be worn in the bedroom or to attend a adult only fetish party.
Feeling USA has broadened their corset costume selection, since those were their best sellers last Halloween season. The costumes consist of basic beautiful high quality corsets a woman can wear on many other occasions, paired up with the necessary accessories required to dress up for Halloween. Angel wings, pitch forks, devil horns, police hat, badge, cat ears and tail transform you in seconds. Versatile corset costumes that allow various options to wear it, the variations are endless. One costume offers many options for those who are planning to attend more than just one Halloween party, these versatile corset costumes easily convert from one theme to another. An Angel Costume, for example may be converted into a sexy nurse outfit, or a white kitten by simply adding cat ears and a tail.
For those on a smaller budget, Feeling USA offers accessory kits to create Halloween costumes for very little money. There are many possibilities, with a pair of leggings, a T-shirt, and a little fantasy, any woman can create an inexpensive costume using these Halloween accessory kits. In addition all their last year Halloween styles are on sale and offer big savings to a customer.
Feeling USA is specifically proud to offer high end luxury costumes designed and manufactured in California by Hey Baby, which are customized according to a customers requirements upon request. Only the finest fabrics, superior sewing techniques, and hand-sewn rhinestone details are used to create these fabulous unique costumes.
Costumes that make a splash at any Halloween masquerade ball, and may even win 1st prize.
FeelingUSA.com is a large lingerie store on the web, and retails lingerie, corsets, sexy clothing, costumes, bikinis, stockings, bodysuits, and high heel shoes, also specializing in plus size lingerie, as well as leather, vinyl, and latex. The company was founded in 1996 and carries close to 6'000 items in the online lingerie store. FeelingUSA provides secure e-commerce, accepts all major credit cards, and also offers Google and Paypal checkout. Worldwide shipping, free within the US, great prices, lingerie on sale, discounts, free panty, and price guarantee. The team at FeelingUSA Lingerie loves to assist and can help choosing the correct size, shipping methods, and any other question about buying lingerie. FeelingUSA makes it easy to bring sexy back into every women's life.