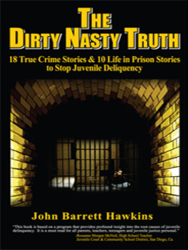 San Diego, Ca. (PRWEB) September 03, 2012
True crime author John Barrett Hawkins is conducting an unprecedented critique-the-author contest in which he invites readers to provide constructive criticism and creative ideas to improve his book The Dirty Nasty Truth: 18 True Crime Stories To Stop Juvenile Delinquency. The winner of the contest will have their name printed on the book's front cover as co-author, and be paid 10% of the author royalty. The contest winner will also be allowed to purchase books at cost and resell them from their own website or seminars if they are a public speaker.
The Dirty Nasty Truth is based on a delinquency intervention program named Convicts Reaching out to People (CROP) that Hawkins participated in while incarcerated at Donovan State Prison in San Diego. At CROP, prisoners gave personal testimonies about the crimes they committed and the lessons learned. With chapters like "The Deadly Love Triangle," "Savage Sex: The Truth about Teenage Gangbanging" and "Blockbuster Bandits," readers will be captivated by the criminal underworld. The book delivers edge-of-your seat action scenes – intense gang shootouts, police standoffs, bloody prison riots, savage homicides and high-speed car chases. Within each story, Hawkins interweaves important messages for parents and teenagers. He addresses drugs, sex, bullying, gangs, alcohol, suicide and crime without talking down the kids.
"One of my goals with the critique-the-author contest is to inspire teens to read the book," says Hawkins. "I also hope that parents, teachers and juvenile justice personnel will provide ideas that will enhance the book's ability to deter delinquency."
The Dirty Nasty Truth is a 247-page trade paperback book; retail price $15.51. The Kindle eBook is $6.95. Visit the author's website http//:http://www.dirtynastytruth.com to read free sample chapters.
Att. Media: contact the author for interviews or review copies. Visit JohnBarrettHawkins.com/press kit for cover art, author photos, excerpts, book summary, chapter by chapter preview, mock book review, news pegs, articles written by Hawkins, sample interview, and more – all in cut-n-paste format for easy use.