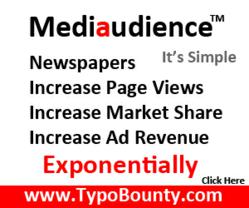 Mediaudience™ changes the game when it comes to gaining online market share.
Houston, Texas (PRWEB) September 04, 2012
TypoBounty.com launches a new program called Mediaudience™ designed to revolutionize the way online newspapers gain market share, increase page views and increase ad revenue without the use of pay walls.
Watch The Mediaudience™ Video: http://www.youtube.com/watch?v=AGazsQS9ooA
Recognizing that news reporting is a congested field online, and that many newspapers struggle to grow readership and revenue, Andre Roberson, president of TypoBounty.com, studied the problem and developed an innovative means of inexpensively growing news site traffic, market share and ad revenue. He named the process Mediaudience™. Mediaudience™ allows news media to connect with audiences on a much more engaging level, turning readers into fans of the news source by making news sites more interactive.
"Mediaudience™ changes the game when it comes to gaining online market share. " says Andre Roberson. "News sources are much like other forms of media. One has to adapt to changes early or always be in danger of going the way of cassettes and VHS. Mediaudience™ is that next step in audience interaction/social media for news sources. Online newspapers that embrace Mediaudience™ early stand to make significantly more revenue."
National Newspaper Publishers Association members have a window of opportunity to capitalize on the power of making their news media social.
Mediaudience works by making the online newspaper interactive, allowing readers to identify where the paper copy could be better. On the surface, Mediaudience™ is a bold commitment to providing quality news copy. Beneath that surface, it has the needed hook to draw news readers and keep them coming back, staying longer, reading more, and navigating through greater numbers of news articles, exponentially increasing page view totals and increasing market share and ad revenue, while simultaneously raising the attention level of news seekers. Advertisers want to be in areas like that.
Mediaudience™ page http://typobounty.com/general.php?page=mediaudience
Andre Roberson Linkedin: http://www.linkedin.com/pub/andre-roberson/37/262/1a6
Twitter: @Mediaudience