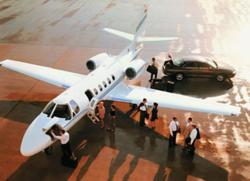 Our experience has been that by the end of September, 80% of all availability has already disappeared.
NY, New York (PRWEB) September 04, 2012
During the months of November and December and leading up to the second week of January, experts estimate that 90% of all private jet fliers in the US will be flying at least once. Due to the sheer volume of flights and demand for private aircraft, the amount of activity this time of year puts an incredible strain on aircraft availability. This may mean that many inexperienced flyers will be shut out of desperately needed aircraft.
Each year, fractional ownership fleets create the greatest strain on the charter industry. Many fractionally owned jets have anywhere from a 4 to 8 shares of ownership on the same aircraft and most want to fly during high demand periods (such as Dec 23 to Jan 2). While operators of these fleets may be available to service a few of these owners during the time period requested, block time agreements with chartered operators will be needed to service the remaining demand. Further complicating the issue are jet card members that expect rides on the same aircraft during these same dates. Taking all of this into consideration, one soon begins to understand the enormity of the demand for aircraft at this time of year.
With significant experience in the jet charter market, industry leader Paramount Business Jets advises clients to book private jets early. "Our experience has been that by the end of September, 80% of all availability has already disappeared," remarks Eric Ammon, Senior VP of Sales and Services, Paramount Business Jets. Booking earlier in the year can save a lot of headache for holiday fliers or price conscious shoppers. Early booking provides clients with better aircraft equipment and can also assist with more competitive pricing due to aircraft availability and market competition. "Waiting till just weeks before a high flying time like during the upcoming holiday season to book an aircraft will mean having to pay for an aircraft to fly in from another airport just to start any given trip. Chartering a private jet in NY one can expect zero availability at local airports." says Mr. Ammon. Paramount Business Jets handles a significant volume of charter traffic during the winter months and consistently recommends securing holiday aircraft between August and September at the latest.
During the winter months, most private jet fliers are traveling to one of their many homes for the holidays, destinations that other private jet flyers will also typically be flying to as well. While veteran private jet fliers will anxiously anticipate available empty legs during any other time of the year, unfortunately most one-ways or empty legs being created during high flying times are for aircraft that are travelling in the wrong direction and not very useful to most. Although Paramount Business Jets offers of the largest selection of empty leg flights worldwide, a trip between the dates of Dec 23 - Jan 2 will generally require two round trips to satisfy the itinerary. When one includes repositioning and lack of supply, it's easy to see why shopping and securing aircraft early is so imperative to creating a cost effective itinerary.
Paramount Business Jets has access to over 15,000 of the world's newest jets, VIP airliners and helicopters. Book with Paramount early each year to ensure aircraft availability and the most cost effective prices for your winter itineraries! Any aircraft or any destination, Paramount Business Jets will arrange every detail of your trip, from inception to touchdown. Simply call one of our Aviation Specialists now to discuss all of your private jet charter options. +1-877-727-2538