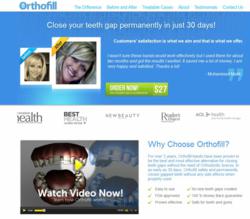 Ottawa, ON (PRWEB) September 03, 2012
Orthofill, the leader in providing revolutionary solutions on how to close gaps in teeth, announces active participation on social networking activities, providing clients alternative channels to communicate with them. The teeth gap solution dental company has been recognized for its efforts on engaging clients on social networks such as Twitter and Facebook.
Orthofill's Twitter account with the handle of @OrthofillBands has over 24,629 followers while their Orthofill Facebook fan page has over 77,750 likes/fans. The large number of fans and followers is enough proof that Orthofill has already made a good impression and is slowly making a mark in the dental industry with its gap solution called Orthofill bands.
Social media marketing is an essential element in getting the online credibility most business want. Orthofill might be focused on dentistry and oral health but the company is aware of the importance of marketing on platforms where their target market spends most of their time on. Twitter and Facebook are two of the most trafficked websites, which means these platforms are ripe areas for branding and marketing.
On the home page http://www.orthofill.com/, the client counter reflects over 175,219 already closed gaps due to ortho bands and more are adding up day by day. More clients are following and liking Orthofill's social networking accounts to find out how to fix gap in front of teeth without resorting to braces. Social networks are becoming the new alternative line of communication between businesses and clients, making it a must have for Orthofill, so the team can easily reach out to their clients requiring gap treatment service.
Orthofill offers a 100% Money Back Guarantee. Their company policy is to provide its clients a risk free package. Orthofill values their customers very much. Their customer policy states that "If for any reason you are not completely satisfied you can simply send it back to our mailing address and we will give you a full refund with no questions asked."
For more information on how Orthofill can treat diastema in just 30 days, visit http://www.orthofill.com.
About
Orthofill is a company owned by Clicking Labs, Inc. that started in May 2010.With dedication and perseverance, they were able to bring together a team of multi-talented individuals to provide the world with creative and interesting marketing strategies to drive success to its clients. It has stations in Ontario, Canada and Cebu, Philippines.