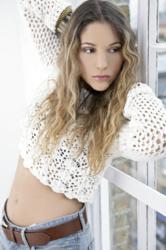 We can teach our models, how to act and we can show them the ropes, but we can't dictate to them how they are actually feeling,
London, UK, 3rd September 2012 (PRWEB UK) 3 September 2012
As they promote another successful photo shoot with a stunning new portfolio online, it's all about expressing an emotion for La Mode's latest female model.
La Mode London specialises in all sorts of model advice and are the experts in their field. Having recently expanded their offices and set up a brand-new modelling Academy, the team at the commercial photography studio offer all sorts of tips and tricks to models who enter through their doors. One thing that cannot be taught is how to 'feel,' according to Helen Smith, director for the company.
"We can teach our models, how to act and we can show them the ropes, but we can't dictate to them how they are actually feeling," she explains." It was wonderfully refreshing to talk to our latest female model, who wanted to update her portfolio with some brand-new images. Melis has wonderful model application and is clearly experienced. She's not only beautiful on the outside, she has beauty which shines from within and she knows how to show her true emotions." She goes on to say," it's going that one step further for a model, being able to express an emotion which will sell not only the clothes for the designer, but it will sell the model themselves. It makes everything look much more believable"
Melis has worked previously for a selection of both professional and amateur designers. In her leisure time she likes to take a break from modelling, travelling to new places, visiting the cinema, running to keep in shape and reading. When asked why she became a model, Helen was very impressed with her answer.
"She has taken this step to really understand the clothes that she wears and get behind the image the designer wants to portray."
Melis believes that the modelling experience and standing in front of a professional photographer for a shoot helps define a person, and it is an expression of emotion for her.
"It is not always easy or possible to express what you think or how you feel," she says.
"When you are standing against a professional photographer, you know that you are you. A single flash will let out all the feelings, the reflection will be seen on the display. When you know this, and you put your heart into your job, any designer will put clothes on you and let you tell people what those clothes meant and why they are designed for. I always felt that, I understand the language of clothes, as well as the language of the designer. This is why I wanted to be a Model."
Standing at 5 foot 6 with luscious long brown hair and beautiful blue eyes, Melis has a dress size of 8 to 10, UK sizes and a waist of 27 inches. She is interested in all types of modelling work, including advertising and commercial modelling, catalogue fashion editorial, and exhibition and promotional modelling. Her inspirations range between
Ece Sukan, Gisele Bundchen, Sarah Jessica Parker and Betul Mardin.
The commercial photography company at the very heart of modelling in London specialise in model advice and all they can say to their latest signing is to carry on as she is, because she certainly has got not only the beauty, but also the vision to go far in the modelling industry.
Visit http://www.lamodelondon.com and see not only Melis' new portfolio but others as soon as they arrive at the model advice company and keep up-to-date with all the latest modelling news and information.