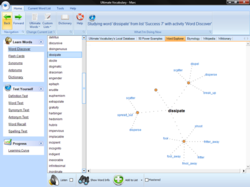 Scientific studies show that the more information you have about a word, the more likely you are to comprehend a text.
New York City, NY (PRWEB) September 15, 2012
A study by Dr. Jocelyn Folk, associate professor at Kent State University, has shown that when skilled readers encounter new words within a text, they are able to come away with reasonable definitions for these words. This method of expanding vocabulary is more successful in the long term when compared to intentional vocabulary acquisition. This new study builds on the findings of past studies which had already shown a strong connection between a strong vocabulary and reading comprehension. Naturally, different individuals process new words differently.
"In order to ensure optimum comprehension, students and other learners should be taught how to use context to figure out new words," says Dr. Folk. Principals and teachers should be aware that incidental vocabulary learning is just as important as direct instruction. Schools should begin paying more attention to this new method of expanding vocabulary. The study has also shown that the ability to infer word meaning from the context could also impact comprehension in other areas of the curriculum.
Appreciating the findings of this study, Marc Slater, the Managing Director behind Ultimate Vocabulary, said "Scientific studies show that the more information you have about a word, the more likely you are to comprehend a text."
Ultimate Vocabulary, a vocabulary software program developed by eReflect, promotes incidental vocabulary acquisition by enabling students and other learners to have multiple exposures to new words. Ultimate Vocabulary's database has more than 142,647 words. Notable features of the software include 50 usage examples for each new word, word visualization, rhymes, and excerpts from encyclopedias and religious texts. All these features allow users of the software to see the word in context.
This vocabulary software combines direct instruction techniques with incidental vocabulary acquisition techniques. With the help of Ultimate Vocabulary, learners are able to learn the spelling, pronunciation and usage of 4-14 words daily. The audio pronunciations are recordings of a real human voice. With all of the different modalities used in the program, says Slater, users are "670 percent more likely to remember the word" than through standard study techniques.
For more information on the vocabulary improvement techniques and features in the software and how these can benefit both adults and children, please visit: http://www.ultimatevocabulary.com/
******
About Ultimate Vocabulary™
Ultimate Vocabulary provides a proven and powerful platform, built to improve anyone's vocabulary.
The interactive self-improvement system provides more learning tools than any other program on the market, as well as more information on words.
The Ultimate Vocabulary software provides each and every user with a personal computer tutor. Providing a step-by-step guide to learning a powerful vocabulary, Ultimate Vocabulary is the learning tool everyone can benefit from.
Of course, the software is also backed by eReflect's iron-clad money back guarantee.