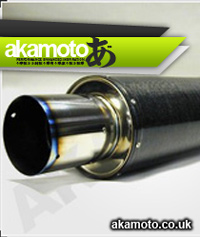 The Body That gets Drivers Noticed
Blackpool, Lancashire (PRWEB UK) 5 September 2012
Now that the Olympics is over attention is turning to Britain's other racing passion, the ultimate car. Performance is key as consumers upgrade their engines using performance exhausts from Akamoto that make extra power within reach.
With solutions to pimp any ride Akamoto is now bringing huge savings to those who want to feel the strength from the driving seat allowing the discerning driver to feel as though they are competing for gold every time they hit the road.
The NOS kits are also proving to be popular as these deliver a burst of energy to any motor without damaging the engine, NOS kits can be bought tailored to exact requirements and replenished when drivers want to stand out from the crowd. When drivers buy exhausts online they find that Akamoto has everything they need, and the two upgrades together make for some serious horsepower.
NOS kits are rapidly becoming the favourite affordable upgrade for every serious sports car owner, as not only are the effects popular with the opposite sex but no other upgrade can match them when comparing price and power. Once installed refills cost as little as £15 from Akamoto, making sure drivers are Gone in Sixty Seconds and always with the girl!
If the NOS alone doesn't attract the ladies, the driver's engine knowledge will as unlike other turbo systems customers find that anyone can fit a NOS system. It takes just a few hours of greasing up and tinkering with the engine making sure by nightfall your wheels are ready to go.
Combined with the performance exhausts from Akamoto, every buyer feels like king of the road, knowing that they hold in their hands the key to unlimited power. As fuel consumption returns to the manufacturers stats straight after use maintenance is child's play and the car is always treated with the kid gloves it deserves- whilst still packing that punch!
Editor's Note:
Akamoto have been supplying upgrades for the discerning driver for a number of years, always offering affordable boosters they know how to power up a set of wheels.