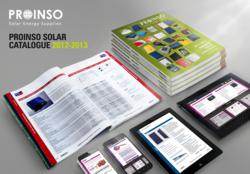 The PROINSO SOLAR CATALOGUE becomes an essential reference book for PV installers around the world, as they can find all the information they need in a single place
(PRWEB) September 04, 2012
PROINSO, a company specialising in the supply of a wide array of PV products for ground or roof-mounted systems, has released the PROINSO Solar Catalogue, an innovative reference manual for solar PV system installers, who can easily find technical information on the main products from leading brands in the PV power industry.
The catalogue has more than 440 pages with over 500 datasheets of the products PROINSO supplies from more than 32 leading companies. PROINSO has added new products to those it used to deliver – modules, inverters, trackers and fixed structures. The new products include micro-inverters, batteries, chargers, pumps, vehicle charging points, e-mobility, street furniture, PV kits, thermal imaging cameras and all types of installation tools.
The catalogue contains all the range of products PROINSO already supplied from companies like SMA, INGETEAM, MECASOLAR, CSI, TRINA, JINKO, YINGLI, LDK or SCHOTT Solar Thin Film, plus those from new brand names like SIEMEMS, ENECSYS, VICTRON ENERGY, TROJAN, DEKA, ENERSYS, MORNINGSTAR, STECA, GRUNDFOS, GE ENERGY, TOP CABLE, MULTI-CONTACT, RENUSOL, TAS, IBERICA LED, SUPERNOVA, FLIR, GPM, SOLAR-LOG, KIPP & ZONEN, SOLMETRIC and many others.
The information in the catalogue is detailed enough to include specifications on products for Europe and America when manufacturers provide such technical features, which turns the catalogue into a world reference.
Thus, the PROINSO SOLAR CATALOGUE becomes an essential reference book for PV installers around the world, as they can find all the information they need in a single place, providing all the technical features and datasheets from the world's leading manufacturers in a consistently organised, well-classified fashion.
As many as 10,000 printed copies will be distributed worldwide, mainly to the more than 2,200 Qualified Installers in different countries as well as to customers who order the catalogue for free. In addition, users can view the catalogue online, download it as a PDF file or get it on their iPad/Android tablets from the App Store to access the technical information it contains whenever and wherever they wish. The application will be available at the App Store as 'PROINSO SOLAR CATALOGUE.'
According to PROINSO General Manager Oscar Pérez, 'The online version will be updated twice a year and the printed text, once a year. Then we'll send it to our customers to ensure they have the latest contents at hand and so they can be more competitive.'
New features have been added, such as comparisons between modules from different manufacturers or inverters, PV kit configurations for different radiation zones around the world, installation dimensions, battery installation, and so forth. 'We work hard to offer value-added services to installers, helping them to make their business more competitive,' Mr Pérez added.
The products in the manual can be purchased by professional installers and engineering companies at the B2B PROINSO STORE (http://store.proinso.net), which offers discounts on retail prices for bulk purchases or returning customers.
Value-added services
This technical manual is just one of the multiple value-added services PROINSO offers to its Network of Qualified Installers, made of more than 2,200 installers worldwide and collaborators in the company's 11 branches in Spain, Germany, Greece, Italy, USA, GB, Canada, China, Australia, India and Thailand.
Among other outstanding services are the PROINSO SOLAR TRAINING SCHOOL, for the official ongoing training of installers, which holds cooperation agreements with leading international learning centres; SIGMA SOLAR, a tool for installers to create personalised catalogues; and PROINSO PLUS, a loyalty programme first launched in Italy that will be available in other countries by the end of 2012.
'We work hard to offer value-added services to installers, and to help them boost their business,' Mr Pérez remarked.//
PROINSO http://www.proinso.net
PROINSO specialises in the supply of modules, inverters, fixed structures and trackers for PV solar stations.
As at the end of 2011, the company had delivered a total 1,115MW around the world, a record high that turns it into one of the world's leaders in the sector, and the International Network of Qualified Installers, currently comprising more than 2,200 members, played a key role in this achievement.
With international markets accounting for 88% sales, PROINSO has offices in Spain, Germany, Greece, Italy, USA, Great Britain, France, Canada, China and the Czech Republic.
Recently, the company set up branches in Australia, India and Thailand to strengthen its presence in South-East Asia.