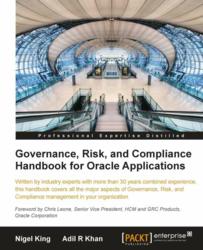 (PRWEB) September 03, 2012
Packt is pleased to announce the publication of Governance, Risk, and Compliance Handbook for Oracle Applications book and eBook, which helps maximize real world learning about corporate, IT and Security governance, creating effective risk management program and risk assessment and control. The book also explores the knowledge in the area of cross-regional, industry specific and region specific laws and regulations.
About the Authors:
Nigel King: Nigel is Vice President for Functional Architecture for Fusion Applications. He has been working for Oracle for 17 years. Nigel is a Chartered Management Accountant. He is also a Certified Internal Auditor (CIA), Certified Information Systems Auditor (CISA), Certified Information Security Manager (CISM) and Certified Information Security Professional (CISSP).
Adil Khan: Adil is a Senior Director at FulcrumWay with over 15 years of experience in enterprise business systems. Adil also serves on the board of the Oracle Applications Users Group Internal Controls and Security Interest Group (OAUG-ICSSIG). His expertise includes streamlining and automating Governance Risk and Compliance processes based on industry standards such as ERM-COSO and CoBIT.
Comprising of detailed discussions about Governance, the book explores the strategic management of the enterprise, the setting of plans for managers, disclosure, and more. Risk Management maps out what can go wrong, and moves through the various sub-disciplines within the audit profession. Compliance Management explains the tools and facilities that have been discovered in the first two sections.
The Oracle's Balanced Scorecard helps management govern the enterprise and helps in creation and execution of strategy. The book covers Management Testing, which is a critical phase of the GRC program. It explains how to manage the internal Audit Function and how it is assisted through access controls, preventative controls, and configuration controls. Readers can build and manage an integrated compliance platform to address regional regulations in major economic zones around the world.
Essential chapters covered in this book are:
Chapter 1: Introduction
Chapter 2: Corporate Governance
Chapter 3: IT Governance
Chapter 4: Security Governance
Chapter 5: Risk Assessment and Controls Verification
Chapter 6: Documenting your Controls
Chapter 7: Managing your testing phase
Chapter 8: Managing your internal audit function
Chapter 9: IT Audit
Chapter 10: Compliance
Chapter 11: Industry Focused Compliance
Chapter 12: Regional Focused Compliance
Packt has also published various Oracle related titles:
1) Oracle BI Publisher 11g: A Practical Guide to Enterprise Reporting (November, 2011)
2) Oracle ADF Real World Developer's Guide (Expected: October 2012)
3) Getting Started with Oracle Data Integrator 11g: A Hands-On Tutorial (May, 2012)
Packt Publishing has developed and published more than 60 Oracle books over the last few years. A complete listing of all Oracle books and eBook can be found on the Packt website. Packt Enterprise develops books for Architects, Developers, Administrators and End User alike.