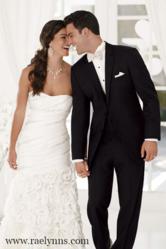 Each guy that rents a tuxedo from us gets our boutique style service to make them look amazing
Indianapolis, Indiana (PRWEB) September 03, 2012
While most guys looking for tuxedo rentals in Indianapolis are just looking for a tuxedo, RaeLynn's Boutique on the south side of Indianapolis is providing more of a service, their boutique style customer service with an exquisite attention to detail.
"At RaeLynn's, we have always been about doing what is best for our customer. Giving them one on one attention, and making sure they are wearing the most fashion forward clothing as possible," McDaniel said, owner of RaeLynn's Boutique. "And with our tuxedo rentals we make no exception. Each guy that rents a tuxedo from us gets our boutique style service to make them look amazing."
RaeLynn's carries tuxedos from Dunhill Tuxedos in northern Indiana and Geno's Formal Affair based in Kentucky. They have found these two suppliers to provide them with the most options for their customers, as well as dependability.
"When providing a tuxedo rental service, it was very important for us to use the best suppliers in the industry," McDaniel said. "We want our guys to look amazing. Finding the right style for their occasion as well as body type is what we do during our consultation. We make it our top priority to make them look like they're ready to hit the red carpet!"
RaeLynn's has provided tuxedo rentals for weddings and prom for over 4 years. Their knowledgeable sales consultants has been trained to make you look first class.
About RaeLynn's Boutique:
RaeLynn's Boutique is the largest social occasion dress boutique in Indiana, and a Top 10 Prom Store in the United States. RaeLynn's Boutique offers all of the top dress designers such as Sherri Hill, Tony Bowls, Mac Duggal and more. Providing accessories, tuxedo rentals and even layaway. RaeLynn's Boutique in Indianapolis is a one-stop shop for social occasion needs. RaeLynn's is located on the southside of Indianapolis, Indiana, in Greenwood. Conveniently south of the Greenwood Park Mall, behind Kohls, on Fry Road, between US 31 and Madison Ave. 455 Greenwood Park South Dr, Greenwood, IN 46142 (317) 889-7766 http://www.raelynns.com