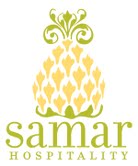 I believe that most chefs are competitive in nature and that a competition such as this one will help motivate them and bring out the best in them regarding their prepping and cooking abilities
Bayside, Long Island, New York (PRWEB) September 04, 2012
On Thursday, September 20th from 6:00PM - 8:30PM at the Adria Hotel and Conference Center in Bayside, NY an epic battle will take place between the the Samar Hospitality Kitchens and Chefs. The event will be tied in with the Adria Hotel's Client Appreciation Party. The Samar Hospitality Hotels that will be participating are the Four Points by Sheraton Plainview, the Viana Hotel and Spa and the Inn at Great Neck. Each of the three hotels have a restaurant and kitchen with professional Chefs. One will find Super's Cafe at the Sheraton Four Points Plainview, the Giraffe Room Lounge and Restaurant at the Inn at Great Neck and Marco Polo's at the Viana Hotel and Spa.
The Samar Hospitality Chefs will have the opportunity to win $3,000, $1,500 and $500. The best part about the battle is that the guests of the event will be the judges. A variety of appetizers, entrees and desserts will be prepared and served to the attendees with each one having their own style and flair, which will be determined by each of the Chefs participating in the battle.
Each of the Samar Hospitality Hotels have started to invite some of their VIP customers and clients to the event and are continuing to reach out to them as the event nears. For those that the Hotels invite there will not be a charge to attend. The general public may attend the event as well; however, there will be a nominal fee of $30 for outside guests to attend. One may RSVP or find out more information by contacting Sarah Frayne at 516-338-7777 or via e-mail at sfrayne(at)samarhospitality(dot)com.
When Alan Mindel, Operating Partner of Samar Hospitality was asked why he decided to host such and event and how he came up with the idea, he replied, "We thought it would be a great way to have some fun while showing our customer and client base the various skills our Chefs posses. The concept was really derived from some of the more popular cooking shows that can be found on a variety of cable networks, which I am personally a big fan of. I believe that most chefs are competitive in nature and that a competition such as this one will help motivate them and bring out the best in them regarding their prepping and cooking abilities. In the end, each one of our Chefs will be rewarded for their hard work and dedication and they will most likely grow from the experience."