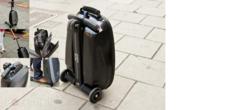 The case was designed with the dimensions of overhead luggage space in mind
(PRWEB UK) 4 September 2012
For any customer who has travelled along the, what seems like a never ending journey, of airport terminals, may find great joy in this ride-on suit case , not for kids but for adults. This long awaited idea that has come to fruition is going to be definitely the item that makes any traveller stand out from the others.
The hard-shelled case is designed with plenty of room for a short trip or for those who have learnt the skill of packing well, the case would hold for an even longer trip. The case was designed with the dimensions of overhead luggage space in mind, so at present, this does not seem to pose a problem with airlines. The scooter uses a "lean and steer" mechanism but there would not breaking any speeds limits here while travelling at 10mph.
The Scooter cases have only a limited amount in the UK at present with promises that more would be shipped in. Well, of course, if this idea of scooting along is just too much fun to handle, the case can still be pulled along as a traditional trolley case- as typical of trusted Samsonite to think of all the options for busy passengers.
It seems that gone are the days of literally running to the check in point or of lugging your case along. This is definitely the luggage that moves you rather then you moving the luggage.
Luggage Superstore established site is in West Kingsdown, Kent. Their aim is providing competitive prices of the highest quality luggage and top calibre Customer Service for online luggage shopping.
Trina Chee-a-kwai
Luggage Superstore
01474 854666
Email information