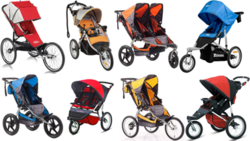 We personally recommend every brands we review because we know, their products not only make jogging easier, but also more enjoyable.
(PRWEB) September 07, 2012
A whole new website, eJoggingStrollerReviews.com, offers reviews on Jogging Strollers and Baby Travel Systems was recently launched which makes it simple for parents to learn about running strollers and travel systems from well-known brands like BOB, Britax, Jeep, Baby Trend, Joovy, Instep,Graco and more.
The website provides an easy way to discover more about the various brands that are on the market, by offering product information and details, together with high quality photographs and descriptions for every jogging stroller which it reviews.
This website provides information regarding the best jogging strollers that meets a baby's needs and requirements. There are many types of running strollers including all terrain, double, fixed, single, and swivel wheel and those who want reviews on products of particular brands can also find what they're looking for. Each of the products undergoes lots of testing and durability checks before they're sold in the marketplace to ensure that a baby can be safely and easily carried around in them.
The site also offers additional resources that parents needs to make a wise and fast decision to find the best jogging stroller or travel system available. Some of them are -
1. How to choose a best running stroller.
2. Jogging stroller buying guide.
3. Double jogging stroller buying guide.
4. Top Jogging Strollers.
5. Jogging with baby.
Thanks to all the helpful information from eJoggingStrollerReviews.com, it's now easier for parents to choose a jogging stroller or a baby travel system while not having to drive across town to compare them. Parents can take benefit from the helpful resources along with the in-depth product information made available from this portal, turning it into easy to move out thus hitting those jogging trails with their loved ones while the weather remains pleasant this fall.
About eJoggingStrollerReviews.com (eJSR):
eJoggingStrollerReviews.com is a review site that offers the latest and best reviews available, to help parents make informed buying decisions while checking out the detailed product reviews.