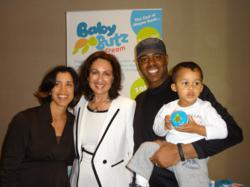 "Knowing celebrities are using my son's diaper cream is so surreal!"
East St Paul, Manitoba (PRWEB) September 25, 2012
California is big on all natural products, so when Hollywood called on a small Canadian company, Baby Butz came running.
Most products are made for profit, but the really great products and inventions are made from pure necessity. They say necessity is the mother of invention and for Baby Butz diaper cream creator Majda Ficko, this couldn't be more true.
Ficko's son Demitri was born 15 years ago with a rare condition called Cornelia de Lange syndrome and has been in diapers 24-hours a day ever since.
"Demitri spent the first three years of his life in and out of hospital and a pharmacist there had formulated a skin cream for him," says Ficko, a mother of three. "But when the pharmacy closed, the cream was no longer available and I was at the mercy of whatever diaper creams were on the market, none of which worked and are packed with harsh chemicals."
Desperate, Ficko tracked down the ingredients used by the hospital pharmacy and with a Research Chemist, spent two years perfecting a diaper cream for Demitri.
"I never intended to sell this cream but a doctor at the Children's Rehabilitation Centre in Winnipeg said to me 'Why should your son be the only one to benefit from this?' As a mother, that really struck a chord with me," says Ficko, owner of Olen Cosmetics, manufacturer and distributor of Baby Butz and other natural hair and body care products.
And so Baby Butz diaper cream was born! The certified all-natural product (which isn't animal tested) is also gluten- and paraben-free.
Once launched, Baby Butz quickly won a Seal of Approval from Parent Tested, Parent Approved website which catapulted Ficko and her diaper rash cream straight to Hollywood.
"I was invited to gifting suites at the Oscars and Golden Globes earlier this year and handed out Baby Butz diaper cream to stars and pregnant celebrities" says Ficko from her home in East St. Paul, MB. "Knowing celebrities are using my son's diaper cream is so surreal!"
Her product was also featured at Dancing with the Stars winner J.R. Martinez's baby shower.
However Baby Butz's star power is secondary to its healing power.
"Demitri has never come in with a diaper rash since he has been using it," says Dr. Janet Grabowski, Demitri's pediatrician. "Because of (Baby Butz's) success, I'm now recommending it to my patients."
Olen Cosmetics Corporation located in Canada manufactures and distributes All-Natural baby and childrens body and hair care products, products that are "Safe for you, Safe for your children".
Baby Butz cream can be found in pharmacies, health product stores, specialty baby boutiques and grocery chains such as Safeway and Sobeys in Canada. Negotiations are under way with a large baby boutique and grocery store chain in the U.S. and they will be selling the product overseas within the next six months.
For more information on Baby Butz including where to buy, visit http://www.babybutz.com
FOR MORE INFORMATION CONTACT:
Majda Ficko
President
Olen Cosmetics Corporation
1.877.494.4313
mail(at)olencosmetics(dot)com