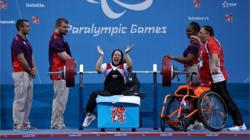 I am so happy and thrilled to win the gold medal. I came here to win and make Egyptians proud
(PRWEB) September 03, 2012
Egypt's Fatma Omar won a fourth successive Paralympic Games gold medal in Powerlifting but needed a world-record lift to see off Nigeria's Lucy Ejike in a thrilling women's -56kg division competition.
The 38-year-old produced a lift of 142kg to set a new record and watched on as Ejike failed to lift 142.5kg. The Nigerian claimed silver, while Turkey's Ozlem Becerikli took bronze with a best lift of 118kg.
Omar celebrated her victory by breaking the world record for the second time of the day at ExCeL with a successful fourth attempt of 143kg.
She said: 'I am so happy and thrilled to win the gold medal. I came here to win and make Egyptians proud. It was a great competition and Lucy Ejike was a strong competitor.
'I have been training and preparing for London 2012 for a whole year, as I was pregnant before. My coaches had faith in me and that I will come back strong and I am glad that I have met their expectations.
'This is my fourth participation in the Paralympics and I will keep training until the next one in Rio 2016.'
A new world record was also set in the men's -67.5kg class as China's Liu Lei took gold by a margin of 10kg ahead of Roohallah Rostami of Iran in silver, while Shaaban Ibrahim took bronze.
Lui opened the competition in style by breaking the Paralympic record with a lift of 218kg, before breaking the world record with 226kg with his fourth attempt.
Liu, who was the champion on home soil at Beijing 2008 in the -75kg division, said: 'I felt under much greater pressure four years ago in Beijing because it is my home.
'I felt great warmth from the crowd here in London. It really helped my performance and I want to thank them for their support.'
Having won gold in the -52kg competition at Beijing 2008, Mexico's Amalia Perez, 39, showed she has taken to her new weight category well by winning the women's -60kg title.
Perez beat her nearest opponent, silver medallist Yang Yan of China, by over 10kg as she broke the Paralympic record with her final competition lift.
Yang's best was 125kg in second, while Egypt's Amal Mahmoud collected the bronze with her opening lift of 118kg.
'Winning a gold medal is a big satisfaction to me as you have a commitment to your country,' said Perez. 'I'm so happy with the result. It's been hard work, it has taken four years to get where I am at the moment.
'I will work hard for Rio (in 2016). I'm aiming to get a world record in this category. My new challenge is to get a world record - maybe 137kg.'
For further information please contact the London 2012 Press Office.
###