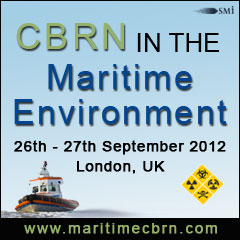 London (PRWEB UK) 5 September 2012
As an island nation, the UK has a variety of critical national infrastructures placed close to the coast. In the event of a terrorist attack including the use of the 4 materials, it is essential that we understand the risk and correct response in this coastal environment.
CBRN in the Maritime Environment 2012 taking place on the 26th and 27th September 2012, is the only dedicated commercial Maritime CBRN conference in the UK that brings together expertise from leading maritime nations and offers vendors the chance to demonstrate to the community how their solutions work in the maritime domain. Attendees will have the chance to analyse policies, examine existing capabilities, prevent and prepare from an attack and identify gaps.
Our expert speaker line-up includes:

Lauri Luht, Rescue and Crisis Management Policy Department, Estonian Ministry of the Interior
Neil J Hall, AFNI
Lieutenant Colonel Georgios Mantzouris, Transformation Directorate, NATO Maritime Interdiction Operations Training Centre
Ojars Gerke, Environment Management Specialist, Latvian Coast Guard
Lieutenant Youri Linden, Seariding Instructor, Royal Netherlands Navy
For our conference programme and full speaker line-up, please visit http://www.maritimecbrn.com
In addition - don't miss the half-day interactive pre-conference workshop: Counter-Piracy and Maritime Security Strategy
Led by: Thorsten De Kever, Head of Air Operations and Christian Lang, Maritime Operations, International Security Network
For full details and to book your place, please visit http://www.maritimecbrn.com
Alternatively, contact James Hitchen on tel: +44 (0)207 827 6054 or email: jhitchen(at)smi-online(dot)co(dot)uk for more information.
-----------------------------------------PRESS RELEASE ENDS --------------------------------------