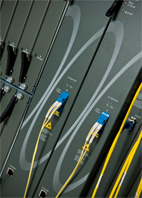 Dublin (PRWEB UK) 4 September 2012
Intune Networks and Telefónica announce the successful completion of testing on the iVX8000 optical switching and transport system.
Telefónica engineers performed a comprehensive suite of tests on the system, which uses Intune Networks' OPST technology to provide both switching and transport functions at the optical layer.
The system was configured to create a single virtual Ethernet switch with ports as far as 55km apart from each other. This delivered a full mesh of dynamic bandwidth around the network with both packet-switching and transport provided by a single layer.
Juan Pedro Fernandez-Palacios Head of Core Network Evolution– Telefónica I+D-Global CTO Unit said, 'Our objectives for this field trial were to validate the characteristics of Intune's OPST technology under operational conditions. The system behaved exactly as predicted, both when providing connectivity, during service configuration and during simulated failure conditions.'
The test environment was designed to show how sub-wavelength switching can be used to flexibly distribute bandwidth, respond rapidly to new service demands and provide flexibility of core service locations within metro networks.
Arthur Smith, Chief Operating Officer at Intune Networks, said, 'We were delighted to have the opportunity to work with an operator of Telefónica's experience. They have helped to validate the operational benefits of this technology in video and content distribution metro networks.'
Following this successful phase of testing Telefónica now plan to expand the test environment to include virtualisation and transference of video servers within a metro and Content Distribution Network (CDN).
About Intune Networks Limited (http://www.intunenetworks.com)
Intune Networks has developed a brand-new networking technology, allowing telecom operators to scale networks in a way that is simpler to operate, uses fewer components and can cope with unexpected traffic demands.
Intune has created a new way of forwarding packets over long distances, developing an optical Ethernet switch that can switch packets across hundreds of kilometres. Intune's technology uses tuneable LASERs to switch packets in real-time, using the emerging standard for sub-wavelength switching. This reduces network complexity and increases connectivity by making bandwidth instantly available to any point in the network.
Intune are a venture-backed company headquartered in Dublin, Ireland, with offices in the United States and additional research and development facilities in Belfast, UK.
About Telefónica (http://www.telefonica.com)
Telefónica is one of the largest telecommunications companies in the world in terms of market capitalisation and number of customers. From this outstanding position in the industry, and with its mobile, fixed and broadband businesses as the key drivers of its growth, Telefónica has focused its strategy on becoming a leading company in the digital world. The company has a significant presence in 25 countries and a customer base that amounts to more than 312 million accesses around the world.