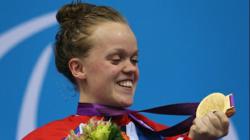 I went out there and gave it my all. Oh my gosh. I'm exhausted but I can't believe I did it.
(PRWEB) September 03, 2012
Ellie Simmonds produced an astonishing swim to power to gold in the S6 400m freestyle and smash the world record.
The darling of Beijing sent the Aquatics Centre into raptures as she finally shook off US rival Victoria Arlen in a time of 5:19.17 to successfully defend her Paralympics title.
Simmonds timed her swim to perfection, hittiing the front with 50m to go and pulling clear from Arlen.
It was all too much for the 17-year-old at the end as she burst into tears with the cheers of the crowd ringing in her ears.
And the tears continued to flow in Simmonds' post-race interview with Channel 4, with her answers punctuated by sobs.
She said: "I went out there and gave it my all. Oh my gosh. I'm exhausted but I can't believe I did it.
"It was so tough. I saw Victoria in the last 100m and I got my head down and I thought 'I'm going to do it'. I was exhausted and I just went for it. I did it for myself, my family....
"All my friends are here. My coach said it would be won in five minutes 19 but I can't believe I swam 5:19."
Simmonds is still to go in the 50m and 100m freestyle as well as the 200m individual medley, which she is the world record holder.
Simmonds' heroics were followed by a silver in the women's 100m breaststroke SB8 for Claire Cashmore,while Matt Whorwood earlier picked up a bronze for ParalympicsGB in the 400m freestyle S6 - a race won by Ireland's Darragh McDonald - but Sascha Kindred finished out of the medals in the 100m breaststroke.

For all your latest news ahead of the 2012 Paralympics, follow @C4Paralympics on Twitter and like the C4Paralympics Facebook page.