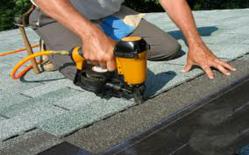 Roof Link Inc. is providing its roof repairs and replacements to all cities in Northern Florida.
Ponte Vedra, Florida (PRWEB) September 04, 2012
A roofing company in Ponte Vedra, FL is now doing seven days a week repairs and installations for homeowners. The hurricane season is now underway in Florida and Roof Link Inc. has expanded its business operations to seven days a week. This change is in response to the huge demand for roof leak repairs, shingle replacements and entire roof replacements for North Florida area residents. The damage that tropical storms, tornadoes and full-blown hurricanes can bring to a roof can be devastating. Roof Link Inc. has hired some of the best roofing contractors that are now on call seven days a week.
Homeowners that want to review the shingle offerings provided by Roof Link can review the products at the following link http://www.roofingjacksonvilleflorida.com/products.
Roofing companies are in demand not just during severe weather seasons. It is expert installations by roofing companies that help homeowners to save money on home energy costs. Inadequate shingles that allow air to pass through causes the majority of cool air loss in homes. Some estimates report that over 40 percent of home energy costs can be attributed to an inferior roofing system. Companies like Owens Corning that develop Weather Lock shingles are helping to prevent home heat and cool air loss through shingles.
The roofing materials industry undergoes drastic changes about every two to three years. The products that are in development now should be available within 36 months. The investments that are put into this development are one thing that is helping homeowners to receive more protection against damaging effects from wind, ice and rain penetration. Not all roofing companies make use of the highest quality products and this can lead to premature failure of a roofing system. Insurance companies report in annual data the amount of actual roof replacements that are completed for homes. A large percentage of these damaged homes use low grade shingle systems that have a natural lifespan of less than 15 years.
Roof Link Inc. is now providing its roof repairs and replacements to all cities in Northern Florida. The cities along the beach districts of the Atlantic coast are some of the hardest hit when severe weather strikes. The new seven days a week services are scheduled to continue after the hurricane season is over in preparation for the unpredictable spring weather.
Homeowners that want to schedule a free roof assessment, obtain a quote or get answers to questions can contact the main Roof Link office at http://www.roofingjacksonvilleflorida.com or at the following address:
Roof Link, Inc
2730 Isabella Blvd.
Suite 50
Jacksonville Beach, FL 32250
(904) 900-2801
About Roof Link Inc.
Roofing repairs and installations are one area of business that Roof Link Inc. excels at in the North Florida area. As an expert roofing contractor, Jacksonville, FL native Garrett Wadford started Roof Link with the goal of becoming the go-to roofing company in Florida. A superior team of roofing experts is now part of the staff available at Roof Link Inc. to help assist homeowners seven days a week. With low prices and free insurance policy reviews, Roof Link Inc. is providing the alternative that homeowners in North Florida welcome in the roof repair and replacement industry.