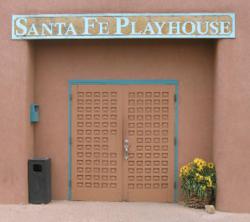 Santa Fe, New Mexico (PRWEB) September 03, 2012
People, both visitors to Santa Fe and locals, are invited to come enjoy 'Fiesta Melodrama 2012', a play that celebrates the 100 years of Statehood for New Mexico and 90 years of poking fun at the subtleties' and the eccentricities and the uniqueness that makes the town known as the City Different. During this play, like most melodramas, play goers get to boo the Villain, cheer the Hero and Heroines, get caught up in the chase scene and nicely enough forget about life for awhile. This is a featured event on the SantaFe.com event calendar.
The play schedule during Fiestas de Santa Fe is as follows:

Wednesday, September 5 • 7:30 PM - 9:00 PM
Thursday, September 6 • 7:30 PM - 9:00 PM
Friday, September 7 • 7:30 PM - 9:00 PM
Friday, September 7 • 10:00 PM - 11:30 PM
Saturday, September 8 • 7:30 PM - 9:00 PM
Saturday, September 8 • 10:00 PM - 11:30 PM
NOTE: Parking is not available at the P.E.R.A. building and other nearby state parking areas during the month of February during the Legislative session, or whenever a Special Session has been called. Please park in nearby metered parking after 6pm on weekdays or on weekends.
Funding provided by the City of Santa Fe Arts Commission and the 1% Lodgers' Tax; New Mexico Arts, a Division of the Department of Cultural Affairs and the National Endowment for the Arts.
The 'Fiesta Melodrama was written by A. Nony Moose, is directed by Catherine Donavon, assisted by Jonah Winn-Lenetsky and features Charles Tichenor at the Piano.
Seating is open, not assigned. Season or flex passes may not be used for gala nights. Box office & lobby open one hour before show time; Theatre opens one-half hour before show time
For tickets and information:
Box Office information and reservations: (505) 988-4262
E-mail: playhouse(at)santafeplayhouse(dot)org
For online reservations please click here.
About SantaFe.com:
SantaFe.com provides locals and visitors to Santa Fe alike the most current interactive platform for events, music, arts, business, dining and lifestyle. SantaFe.com is a division of Hutton Broadcasting, located at 2502 C. Camino Entrada, Santa Fe, NM 87507
Contact Information:
Scott Hutton
SantaFe.com / Hutton Broadcasting
http://www.santafe.com
(505) 471-1067 (Media inquiries only, please)