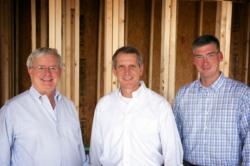 Atlanta, GA (PRWEB) September 05, 2012
Wrapping a collective 40 years of building success into one company, three seasoned Georgia builders are pleased to announce their newly branded, Atlanta-area home building group: JEH Homes.
JEH Homes, whose official brand launch kicks off this week in tandem with the unveiling of its new James Creek community in Cumming, has 14 communities in various stages of development, including several move-in ready homes.
After successfully enduring the housing wave in Forsyth County, the three builders joined synergies to collaborate on how to effectively and sustainably shape future building initiatives throughout North Georgia. Thus JEH Homes was developed, utilizing the partners' last names, Jim Jacobi, William Evans, and George Hovis, to seal their brand.
Having been in the home building industry through its highs and lows, JEH Homes is committed to building communities that will remain desirable and be highly sought after regardless of market trends. The homes JEH offers, which range from $150 K to the high $300's, are located Northeast of Atlanta and offer resort-style amenities, green living, and smart designs that maximize living space. The properties include single-family homes as well as maintenance-free townhomes where Wi-Fi access, granite kitchen countertops, recessed lighting, and select-room hardwoods all come standard.
JEH Homes' GREENdesign Initiative focuses on family living, practicality, and energy savings. The affordable Atlanta-area homes and townhomes are engineered with Low E (emissivity) glass, which aims to reduce energy expenditures by 30%-50%. Additionally, water conservation fixtures, thermal barriers, and smart-space layouts maximize energy efficiency.
Many of the communities include state-of-the-art lifestyle amenities such as indoor and outdoor tennis facilities, multiple pools and family-friendly aquatic features, and pristine, expansive common areas. Homeowners are invited to select custom fixtures and finishes at an on-site facility in each community to help alleviate the frenzy that often accompanies the home furnishing selection process.
JEH Homes offers the prestigious Quality Builders Warranty (QBW) Corporation's 10-year warranty, backed by Liberty Mutual Insurance Company. Unbeknownst to many homebuyers, builders and their vendors must be vetted and must meet certain qualifications and standards to earn the right to offer a QBW warranty. "We are so proud to include this warranty with every JEH home," says JEH Homes' Sales and Marketing Manager, Jaime Chastain. "The warranty stays with the home for the 10 year duration and is known as the gold standard in the home warranty industry."
The Georgia homebuilder continues to draw high demand even in a fickle market. Last year the owners collectively closed 88 homes, this year they are on track to help over 150 individuals or families purchase a home.
The builders have announced plans to expand into North Gwinnett County and will open sales for their new Highland Station community in early October. Both Highland Station and Cumming's James Creek are on realtors and homebuyers' desirable list due to their inclusion in exceptional school districts.
JEH Homes' President Bill Evans shares the secret to their home building success: "We are committed to providing the best value proposition in Atlanta. We do not design these homes to be built all across the U.S.A.; we specifically design them for suburban Atlantans' needs and lifestyle. Further, we only build in stable neighborhoods the partners and I can be proud of. These are a few of the reasons we have been able to weather the recessions."
Adds JEH Homes' partner Jim Jacobi, "We were able to utilize the recession to make key land acquisitions and establish smart growth. We can now offer beautifully designed new homes at foreclosure-competitive prices."
JEH Homes offers Craftsman and traditional homes in the greater Atlanta area. Its communities boast many floor plan choices, smart living spaces, and exceptional price points per square foot. JEH Homes also includes high-end features and finishes that competitors traditionally package as upgrades.
To learn more about JEH Homes or visit any one of its 14 communities, logon to jeh-homes.com or call 1-866-291-1877.