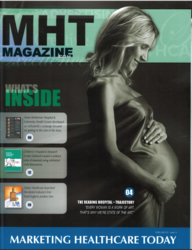 The campaign energized our physicians and staff, and contributed to growing awareness, interest and volume.
Morristown, New Jersey (PRWEB) September 06, 2012
Trajectory's (http://www.trajectory4brands.com) new campaign for The Reading Hospital's Women's Services is featured in the latest edition of MHT Magazine.
The integrated marketing campaign, "Every Woman Is A Work of Art. That's Why We're State Of The Art", serves to establish The Reading Hospital as a nationally-recognized and contemporary player in the field of advanced OB/GYN services and related offerings for women across all stages of life. The multi-media campaign included television, print, out-of-home and online – showcasing the expert staff, diversity of services and quality of care available to a broad range of women in the communities they serve – all incorporating a strong call-to-action.
Ann Valuch, Director of Marketing at The Reading Hospital, states, "The campaign energized our physicians and staff, and contributed to growing awareness, interest and volume." Adds Randi Brody, Trajectory EVP and Partner, "we're so proud of the work we've developed with the team at The Reading Hospital to promote their Women's Services program. Most rewarding is that we really moved the needle in terms of generating interest and patient volume."
Preliminary campaign results indicate a 41% increase in prenatal class registration, 36% increase in website visits, and 24% increase in unique visitors to the website.
About Trajectory
Trajectory creates new energy for customers, brands and companies. It does this by helping organizations to focus, perform better and ignite new growth. The firm works with clients from the inside out to sharpen their brands, create greater differentiation and engage their internal teams. And it helps them to energize business by making new and deeper connections with customers, launching new products and services and creating new experiences. Representative clients include Arnold Palmer Enterprises, AUI Fine Gourmet Foods, Orlando Health, Palomar (PaloVia Skin Renewing Laser), Reading Hospital and Medical Center and Reckitt Benckiser. Learn more about Trajectory by contacting Eric Brody, President at 973-292-1400 x201 or email him at eb(at)trajectory4brands(dot)com.
About The Reading Hospital and Medical Center
The Reading Hospital and Medical Center is a not-for-profit healthcare center providing comprehensive acute care, post-acute rehabilitation, behavioral, and occupational health services to the people of Berks and adjoining Pennsylvania counties. Its Medical Staff exceeds 970 physicians and allied health professionals in 53 distinctive specialty fields. In total, its employee family numbers more than 6,900 men and women in both clinical and support services, designating us the largest employer in Berks county.