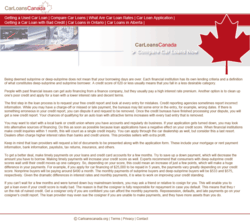 Learning about the dealer's markup, for example, gives car shoppers an edge when negotiating a new car purchase
Toronto, Ontario (PRWEB) September 04, 2012
Art Branch, Inc. announced today the release of a new auto shopping portal (http://www.carloanscanada.org), targeted at Canadian shoppers who are looking to buy a car.
Developed by the web design and development team at Art Branch Inc., the new website offers information on car loans, the major providers of auto financing, the application process, interest rates, and more. The website looks at popular questions asked by Canadian car buyers and tries to offer comprehensive answers. Given the great market demand for information about car loans, CarLoansCanada.org aims to help consumers in their shopping pursuits so that they can make the best choice.
"In the Internet age, it's very easy to obtain free or low-cost information about anything related to car shopping, including how to negotiate a better deal and how to compare car loans. Learning about the dealer's markup, for example, gives car shoppers an edge when negotiating a new car purchase," said Peter Todorov, President of Art Branch, Inc.
Car shopping is an exhausting and harrowing experience for many people. There are so many issues to consider, including financing, maintenance costs, reliability, and insurance. Car shoppers feel overwhelmed by questions related to affordability, depreciation rates, incentives and rebates, and more. While car shopping can be an intimidating and time consuming experience, it doesn't have to be. Using the right online resources helps buyers to make an informed choice and save a lot of money. Car shoppers have a better chance to qualify for a loan and can come up with a reasonable price limit. Knowing the ins and outs of auto financing helps consumers to find low interest rates, negotiate attractive terms, and avoid loan stacking. This is the goal of CarLoansCanada.org – to offer valuable information about different lending options and the choices Canadian car shoppers have. The website offers tips and guides that help consumers to get the best car deal.
The new website will benefit from a car dealers and auto lenders' directory, planned for the end of September, 2012. Art Branch, Inc. hopes that visitors of CarLoansCanada.org will find this free service beneficial.
About CarLoansCanada.org: CarLoansCanada.org is a website created by Art Branch Inc., focused on helping Canadian car shoppers to find better car deals.
About Art Branch: Art Branch Inc., located in Toronto, Ontario, is the parent company of CarLoansCanada.org and has produced many consumer oriented websites targeting Canadian audience. The goal of Art Branch is to provide visitors to company sites with free, practical guides, helping consumers to make educated choices.