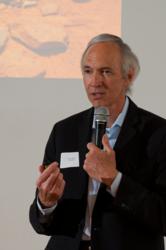 We going to see conflicts in the 21st century increasingly based on access to water. We must deal proactively with our vital but overstressed water resources, both in the US and in other countries.
Tucson, Ariz. (PRWEB) September 10, 2012
Sustainability consultant and green building book author, Jerry Yudelson likes to quote Mark Twain: "As Mark Twain once remarked, 'whiskey's for drinking and water's for fighting.' We going to see conflicts in the 21st century increasingly based on access to water. We must deal proactively with our vital but overstressed water resources, both in the US and in other countries." In fact, according to Yudelson, water conservation is also the cheapest form of energy conservation, "so you get a two-for-one benefit."
Warnings and what can be done about the potential for future urban water crisis will be the keynote focus of green building expert and sustainability consultant Jerry Yudelson at the annual Florida Green Building Coalition(Florida GBC) Conference on September 14th. Florida GBC is the state's leading green building organization and the conference, GreenTrends 2012, to be held at the PGA National Resort in West Palm Beach, expects to draw more than 250 people for the all-day event.
Florida Green Building Coalition Executive Director Suzanne Cook said, "We chose Jerry Yudelson to keynote this year's conference because of his leading role as an author and advocate in promoting efforts to prevent future urban water crises. We believe that green building professionals and public officials need to focus more attention on water, as it's on the cusp of a major technological revolution and offers major green jobs potential."
Yudelson's presentation at the Florida GBC event deals specifically with strategies that green building professionals, public officials and public agencies can take in order to head off future water scarcities caused by droughts, climate change and population growth. He offers these strategies in a new three-part video series, "Water Wars."
The green building and sustainability consultant said, "If we are serious about cutting our carbon emissions, we have to deal with water conservation. Most people know that Florida gets nearly two-thirds of its water from groundwater, but haven't thought about the energy it takes to pump, treat and deliver that water and that a huge amount of natural gas is used for heating water. Because of this connection, we have found that water conservation is the cheapest form of energy conservation."
Yudelson is the author of the seminal book presenting design and planning options for increasing water abundance, Dry Run: Preventing the Next Urban Water Crisis. While he advocates for technological solutions, Yudelson also claims, "We must change our approach to treating water as a free good and instead recognize it as a vital resource for our entire economy."
A professional engineer and experienced sustainability and green building consultant, Yudelson trained at Caltech and Harvard in environmental engineering and water resources management. He believes that water will be the focus for much conflict in the next few decades and that water technology advances, along with creative policy measures, can provide the public sector with solutions to increasingly strained water resources.
About Yudelson Associates
Yudelson Associates is a leading international firm in sustainability consulting, designing with water and green building certification. The founder, Jerry Yudelson, a LEED Fellow, is widely acknowledged as one of the nation's leading green building and sustainability consultants and is an internationally recognized keynote speaker. In 2011, Wired magazine dubbed him the "Godfather of Green." He is the author of 12 green building books and served for two years as Research Scholar for Retail Real Estate Sustainability for the International Council of Shopping Centers, a 70,000-member international trade organization. Yudelson is a frequent green building speaker at industry and professional conferences and chaired the country's largest annual show, Greenbuild, for six years through 2009.
For more information please contact Jerry Yudelson, 520-243-0996, or visit the Yudelson Associates website.