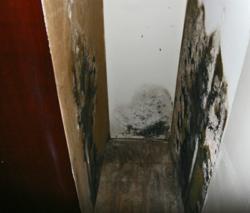 When mold is disturbed by even the lightest touch or airflow, it kicks into survival mode and blasts an amazing 10,000 spores per cubic foot damaging food, furnishings, clothing and HVAC systems
Rocky Face, GA (PRWEB) September 05, 2012
As the floodwaters recede from Hurricane Isaac a new threat arises in the form of toxic mold. Many returning to their homes and businesses will find their problems are just beginning as these tiny mold colonies begin to invade their properties.
As mold eats away at walls, floors, cabinets and fabrics, it spews into the air roughly 100 spores per cubic foot. These tiny mold spores, ranging in size from 1 micron to 100 microns, float on barely perceptible air currents. However, when mold is disturbed by even the lightest touch or airflow, it kicks into survival mode and blasts an amazing 10,000 spores per cubic foot damaging food, furnishings, clothing and HVAC systems.
With mold present, indoor air quality becomes toxic and affects those with allergies or hypersensitivity to mold, especially infants and the elderly. The EPA recommends limiting "your exposure to airborne mold" by wearing a protective respirator. Often, the only safe solution is for the family or business to move to another location, at least temporarily, rather than stay in a sick building.
In the standard mold protocol – contain, remediate, restore - containment is usually limited to containing an area, much like building a quarantine room only using plastic sheeting. This prevents cross-contamination to other rooms. Since mold is present in the air when the cleanup begins, this step is important but fails to keep more mold from getting airborne.
In 2010, MoldHold owners encountered a mold problem that caused them to evacuate their home to protect family members with severe mold allergies. Frustrated that mold experts wouldn't arrive until the next day and that mold would continue contaminating everything until then, Scot LaVelle set out to solve this problem. Applying adhesive technology from the family matting business, he had his production facility produce large bandages that could stick mold to the walls and cabinets. That evening he returned home, used a respirator, and sealed the mold between the walls and the bandages. It was stuck where it was growing.
The next day, when professional mold remediator Mark Cofino arrived, Mr. LaVelle fully expected to hear he had "disturbed the area" and broken several EPA rules. Instead, Cofino excitedly replied, "There is nothing like this on the market. Can I buy it from you?" MoldHold was born.
Industry standards organization, IICRC (The Clean Trust) states on its website, "Without rapid response, both the scope and the cost of a loss increases dramatically." Using effective source containment means that each of those affected by flooding from Isaac, can quickly and effectively encapsulate mold before it has a chance to become airborne. If mold cannot be exposed to the air, it cannot become airborne. It is a simple concept like covering your mouth when you sneeze.
The reason source containment has not been widely adopted before MoldHold is that there has been no product that will effectively stick to wet surfaces. Restoration professionals have used plastic sheeting with tape around the perimeter creating a pocket of mold with limited success. Most tapes just don't stick to wet or damp surfaces.
Patent pending MoldHold solves the problem and enhances the solution by sticking to wet surfaces and grabbing onto mold to prevent it from releasing later during remediation. Equally important is that it requires no special training to apply. It rolls on like a tape and traps most spores like flies on flypaper.
How can thousands of home and business owners collectively save millions of dollars? Consider the following.
In 2011, insurance carriers paid out over $35 billion in claims for property damage while homeowners and commercial businesses footed the bill for an equal amount. Average annual property losses in the US exceeded $60 billion dollars over the past eight years. Since mold claims are a significant portion of those losses, almost every property insurance policy now has limits for mold loss.
This means individuals are paying out more than ever for mold damages. Yet, JC Restorations estimates when source containment is used as a first response, a standard mold remediation is likely to cost 25% less and nearly 55% less if displacement is involved. Given a mold problem typically ranges from $10,000 to $30,000 per incident, the expected saving for each family or business will be quite large.