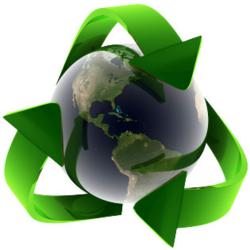 The NFSA encourages each of its members to take an active role in doing its part to keep the planet as clean as possible.
(PRWEB) September 05, 2012
The need for an awareness about our planet's resources is becoming increasingly important to many businesses and especially to traveling sales crews. The negative impacts of the waste of many businesses is increasing the size of the landfills around the country and the world.
Traveling Sales Offices
Many businesses have the luxury of an air conditioned office with all the latest amenities such as copiers, office supplies, and definitely electricity. All these are necessary to run a successful business if they are needed but they also produce a lot of waste. Many times if a piece of equipment gets damaged, the office will buy a new product instead of trying to repair the old one and thus reduce waste. Traveling sales crews have the advantage in that their office is the great outdoors. Each sales crew member walks from door to door throughout the day thus decreasing the amount of waste of a normal office environment.
Recycled Paper Receipts
While walking from door to door, traveling sales crew members also carry with them a notebook of sales receipts to give to customers after making a purchase. Normal sales receipts can create a lot of waste for an office and thus increases the amount of trash accumulated throughout the year. The NFSA encourages each of its members to take an active role in doing its part to keep the planet as clean as possible. While using recycled paper receipts may not seem like much help, with hundreds of different traveling sales crews in service today, the amount of waste that has been reduced by taking this one simple step is crucial in preserving the planet.
Recyclable Containers for Cleaning Solutions
There are several different types of traveling sales crews. One of which travels door to door and sells a environment-friendly cleaning product called Eco-Orange. This company has not only made its cleaning product "green" but also the bottle it comes in. Plastic is one of the many substances that is infiltrating the environment we live in and contaminating many of the water supplies and also increasing the size of garbage dumps every year. By replacing a regular plastic bottle with one that has been made from recycled materials, they are making a big difference in how the world is being treated. Eco-Orange is highly effective when it comes to cleaning such things as water stains, rust, cars and windows. Being sold by traveling sales crews in a recycled bottle makes this product that much more desirable.
Traveling sales crews will not be able to save the world from pollution and garbage. There is no company that can live up to this task. However, each traveling sales crew and the companies they work for have taken small steps in order to create a more eco-friendly environment. If all companies would be willing to take these small steps, think of the difference it could make.