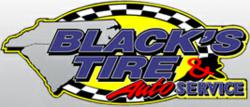 Honored rebates right now including $70 off select Michelin tires as well as up to $160 off of select Goodyear and Dunlop tires.
Raleigh, NC (PRWEB) September 03, 2012
Locally owned and operated Black's Tire and Auto Service has over 80 years of experience in the automotive service industry and now offers the same great selection and service they provide through their service centers to online visitors. Now customers shopping for tires in Raleigh and other areas throughout North and South Carolina can search for tires, compare specifications, and view deals and special rebates, all with a few clicks of a mouse.
Black's Tire and Auto Service has over 30 locations specializing in high-quality tires, tire repair, and auto maintenance. Customers can search the large inventory of tires online by vehicle, brand, or specials. Black's offers top name brand tires from Michelin, BFGoodrich, Uniroyal, Cooper, Goodyear, Falken and more. Current rebates can be printed from the comfort of a customer's home, with rebates right now including $70 off select Michelin tires as well as up to $160 off of select Goodyear and Dunlop tires. Once a customer has selected their choice of tire, they can request an online quote or schedule an appointment online with one of Black's friendly and knowledgeable technicians.
Customers not only can search for tires online by comparing specifications, they can also find deals on service and maintenance. Black's user-friendly website offers car maintenance tips and tricks, printable coupons, as well news, customer feedback, and direct access to ask questions or schedule appointments with their closest Black's Tire and Auto Service center. The site offers quick and easy search tools, a location finder, and information about their local Black's centers. There are so many options to save time and money, making finding tires online more convenient than ever. For more information, or to schedule an appointment, log on to Black's website at blackstire.com.
About Black's Tire and Auto Service: Locally owned and operated since 1929, Black's Tire Service is located in Whiteville, NC, with over 30 locations including a central distribution center, a wholesale center and retail and commercial locations. W Crowell Black founded his small family business that for over 80 years has grown as a leader in giving back to the community through charitable events and sponsorships. They are located throughout Southeastern North Carolina and Northeastern South Carolina to serve the tire and vehicle needs of its customers. Black's has your back!
Black's Tire & Auto Services
E Millbrook Rd Raleigh, NC 27609
(919) 878-1166
http://blackstire.com was built and powered by Tire Company Solutions (TCS).
Tire Company Solutions, a Microsoft Certified Partner, develops and markets both off-the-shelf and custom tire software solutions, web applications, ecommerce platforms, and support and consulting services to tire companies across the US and Canada. TCS has built a product base, which continues to prove itself as a revenue increasing, business streamlining asset to any size tire business. TCS has tools unmatched in the industry, and customization within each of its products to cater to the way tire dealers and retreaders do business. TCS's home office is located outside Nashville, TN with a second location in Salt Lake City, UT.