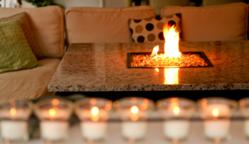 Fire. Table. Grill. Fun.
All - In - One
Orlando, Fl (PRWEB) September 04, 2012
Firetainment,Inc., producer of quality fire tables and supplier of a variety of outdoor living products and accessories, has recently opened their newly designed showroom to service customers of central Florida. They have also developed a program to reach quality dealers to represent Firetainment products around the country. Fire Tables will be showcased twice in the next month at outdoor living/ patio shows.
After the launch of the Fire Table, Firetainment is seeing an increased interest for their products. The Firetainment product is the only table on the market that offers a cooking option and it is getting a great response. With more versatility and convenience than traditional wood burning fire pits, Firetainment tables offer the benefits of a fire pit but also many other features to complete the outdoor living space. The tables are full size and functional as a regular dining table and they include a cooking mount and complete cooking package to prepare meals. The idea behind the fire table is that it performs three functions in one: fire + table + cooking; thus providing the ultimate entertainment experience. This concept continues to be the reason for consumer interest and new marketing programs implemented by Firetainment.
The new Firetainment showroom is conveniently located close to I-4, near downtown Orlando. The showroom was set up as a way to allow customers, interior designers and event, wedding, meeting planners to view the products and the various choices available for ordering a Fire Table. Firetainment tables can also be customized and the showroom will serve as a good place to collaborate on the design. Appointments to view the showroom can be scheduled with one of the Firetainment account executives. Interior Designers and event , wedding, meeting planners may also schedule a time to bring clients to view the products and design options.
The Firetainment Dealer Program is now available for qualified dealer/distributors around the country. Firetainment is looking to partner with various locations and online merchants to represent the Fire Table product. Dealers are being offered an exciting new product that is one-of-a-kind on the market. Firetainment promises a high quality, durable product and great customer service. More information on the dealer program is available by reaching one of the Firetainment account executives.
Firetainment will be participating in two shows in the month of September. They will have a display booth at the Orlando Fall Home & Garden Show, which will be held at the Orange County Convention Center. The show takes place Friday, September 7th, 2012 through Sunday, September 9th, 2012. This is Central Florida's largest home and garden show and it will showcase hundreds of exhibits for builders, contractors, and DIY projects for kitchens, baths, garden displays, landscapes, windows, solar, and more.
Firetainment products will also be showcased at the International Casual Furniture & Accessories Market taking place at The Merchandise Mart in Chicago. This show takes place Thursday, September 20th through Sunday, September 23rd, 2012. The Market provides retailers with a destination to find all things related to outdoor and casual living. For more than 30 years, The International Casual Furniture & Accessories Market has been the ultimate destination for casual furniture, accessories and outdoor living trends. The Firetainment display booth will be located in the Garden Accessories Courtyard, booth #8-3007. More information on the shows can be found at http://www.orangecountyhomeshow.com and http://www.casualmarket.com.
More information about Firetainment is available online at http://www.firetainment.com.
For videos on Firetainment visit:
http://firetainment.com/what-is-firetainment/
http://www.youtube.com/user/xFIRETAINMENTx?feature=
Prime Pinnacle, LLC is the primary investment company for Firetainment, Inc.
Prime Pinnacle focuses on alternative capital investments in well-secured PPMs (private placement memorandums) as well as financial investments in small to medium sized companies. Prime Pinnacle's philosophy is to provide our members with capital preservation and growth through a well-designed business plan, capable management, effective cost control program, significant earning capacity and solid debt management. Prime Pinnacle provides management, marketing, sales, promotions and advertising for all our corporate partners and joint ventures. For more information visit http://www.primepinnacle.com.
2475 N. John Young Parkway, Orlando, FL 32805
http://www.firetainment.com, 888-769-3444
Press Contact:
Jeremy Adams- Director of Public Relations
855-387-7463 Ext.104 / jeremy(at)firetainment(dot)com