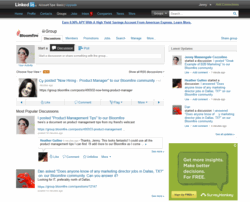 Bloomfire is a great way to expand and extend the power of any LinkedIn Group." - Chris Otten
Austin, Texas (PRWEB) September 04, 2012
Bloomfire, the standard for knowledge sharing in the modern workplace, today announced Bloomfire for LinkedIn Groups, a free tool that allows LinkedIn Group owners and members to turn their LinkedIn Group experience into a media-rich, fully-collaborative community. For the first time, with Bloomfire for LinkedIn Groups, group members can create, post and share multimedia content in full-featured knowledge sharing community environment that integrates seamlessly with the popular professional networking service.
"LinkedIn Groups are now even more useful," said Bloomfire CEO Craig Malloy. "Bloomfire for LinkedIn Groups expands how we communicate in LinkedIn so we can share knowledge by showing instead of just telling or linking to outside content. Once a user switches on Bloomfire for their group, they can create and share original, rich content right inside their LinkedIn Group."
The Bloomfire tool is free and available to all LinkedIn Group members by registering at http://www.bloomfire.com/linkedin. Any LinkedIn Group member can introduce a Bloomfire into their entire group.
"Bloomfire is a great way to expand and extend the power of any LinkedIn Group," said Chris Otten, a technology sales professional and moderator of four distinct LinkedIn groups with more than 25,000 members. "With Bloomfire, the members of my groups now have a way to do more than post discussions, jobs and opinions - they can collaborate by sharing documents, pictures, videos and ideas."
Bloomfire for LinkedIn Groups members can:

Upload and share any file type (videos, screencasts, images, and documents)
Record and upload videos
Record screencasts
Share presentations with attached slide decks
Package related content in a series (like a playlist)
Search and retrieve previously uploaded content
"All the great features of our paid business product are accessible for every LinkedIn Group member," Bloomfire CTO, Dave McCann said. "Using the robust LinkedIn Groups API has given us a chance to really show how Bloomfire helps professionals share valuable knowledge and how it provides a richer experience for group members. The group's owner continues to own content moderation in their Bloomfire as they have in their LinkedIn Group, making the integration and experience as seamless as possible."
Bloomfire for LinkedIn Groups is the first of a series of integrations into popular professional and workplace applications. Instead of having to switch contexts and applications to share knowledge back into a centralized content management system or a learning management system, Bloomfire aims to become the tool that helps employees and co-workers share their knowledge in the applications where they already do their work.
To get your LinkedIn Group integrated with Bloomfire, go to http://www.bloomfire.com/linkedin
About Bloomfire, Inc.
Bloomfire connects people and knowledge so that your organization continuously improves. In a Bloomfire you find practical, informative content, right when we need it. Uncover tribal knowledge that was previously buried in email and hallway conversations. Create new videos and posts. Search and browse enduring content. Ask and answer important questions. Find and follow experts. To learn more, visit: http://www.bloomfire.com