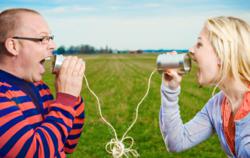 Simple and Easy Ways to Stay in Contact With Traveling Sales Crews Members.
(PRWEB) September 10, 2012
Scheduled Weekly Time to Write or Have Conversations
In today's society, there are so many numerous ways to contact a person.
Blogging: Take the time to create a blog about your traveling adventures. Friends and family can subscribe to what's going on throughout your busy week and get regular emails or updates in their RSS feeds. This is also a good way to have a conversation with those that are not part of your traveling sales crew. Anyone can leave comments about your blog and you will be able to respond to them when necessary.
Calling: The phone has been around for decades and is still the easiest way to talk to someone across long distances. One option you have while on a traveling sales crew is to take the time each week and call a best friend or family member. This allows you the opportunity to talk directly to them, hear a friendly voice, and be encouraged on your journey. Along with this you can even use Skype or FaceTime to see the person you want to talk to. This may require that you have a local Wi-Fi spot near you. One aspect to take into consideration is to find a quiet place for your conversation. Disruptions can be annoying both to you and to the person you are talking with.
Writing: Sitting down and writing a letter is a lost art form, but it add a sentimentality to your message. If you don't have time and would rather write an email you can do that also. Sometimes it is beneficial to write to one specific person, but there is a time and place on your traveling sales crews adventures to write a blanket email to all your friends and family. Either way, the people receiving the news will be glad to hear you are safe and can share in the journey.
Social Media is Essential on a Traveling Sales Crew
When on a traveling sales crew, you visit so many different places such as restaurants, movie theaters, malls, landmarks, etc. Each of these locations either has a place to "check-in" or you can create your own. Every friend you have on Facebook can follow your travels each and every place you visit when you check-in. The newly created post will be right there on your wall and will allow your friends and family to see the progress of your traveling sales crew.
When checking in to a location, you can write a message and make it more personal but there are other ways to enhance the experience. Pictures are a great way for friends and family to actually see you at all the different locations throughout the U.S. Another good idea is to tag other traveling sales crew members in your photos as well.
Keeping in touch with the people we care about is very important. It allows them to know that you are safe but also the fun that can be had while traveling from state to state. Take time each week to keep in touch with those that you care about most. They will appreciate the updates and when updating your Facebook profile on new sights and places, your friends and family can see the adventure, comment on what's new and exciting, and be a part of the experience.