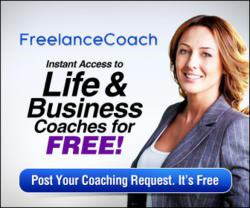 We felt like this improvement was an essential part of growing our coaching network.
Burnaby, BC (PRWEB) September 05, 2012
FreelanceCoach.com announces the latest improvement on its website. First-time visitors to the site are now able to submit a request for coaching without actually registering on the network. This enables clients to anonymously submit coaching requests. Previously the only way to submit coaching requests was by registering and filling out a profile on the network.
The process of submitting an anonymous coaching request takes only three minutes, and only the network's pre-screened coaches are able to respond to the coaching request. Clients receive answers to their requests in just hours and then decide which coach they would like to contact. Executives at FreelanceCoach.com say that while security and privacy are their highest priorities, this new feature on their site gives prospective clients an extra level of privacy.
"We felt like this improvement was an essential part of growing our coaching network," says Public Relations Manager Anda Tudor. "Clients who post requests on our site anonymously can speak with several different coaches before they make their final selection, and since they can post anonymously, they experience an even higher level of privacy than they do when they register on our site."
According to site executives, clients can always request a free discovery session with the coach of their choice to discuss their coaching techniques, and there is no obligation to buy any coaching services.
About Freelance Coach.com
FreelanceCoach.com is a worldwide marketplace for online coaching services. The company's mission is to provide the best coaching services to as many people as possible who want to improve their life to be happier, healthier and more successful individuals. The company's goal is to become the number one coaching services site on the Internet by bringing coaches and clients together.
Contact:
Anda Tudor, Public Relations Manager
anda(at)freelancecoach(dot)com
http://www.freelancecoach.com